Local news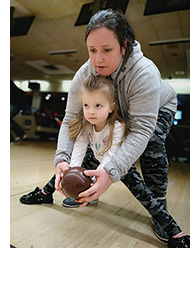 Family Day in Orléans
Posted Feb. 19, 2019
Hundreds of area families took advantage of Family Day on Monday by going to the movies, partaking in outdoor activities like Winterlude, or attending events closer to home like Orléans Ward Coun.Matt Luloff's Laser Tag event or the free bowling event hosted by Orléans MPP Marie-France Lalonde and MP Andrew Leslie at the Orléans Bowling Centre.
Local federal election race off to early start
Posted Feb. 19, 2019
The federal election might still be eight months away, however, the local race is already heating up with the Conservative nomination process already in full swing and NDP hopeful Jacqui Wiens poised to get the green light from the party.
Francophone institution celebrates 40th anniversary
Posted Feb. 19, 2019
For many anglophones living in Orléans the word MIFO is a mystery, but for the 43,000 francophones living in the area the Mouvement d'implication francophone d'Orléans has played a leading role in high-lighting and promoting French cultural expression for the past four decades.
Queenswood Villa residence celebrates silver anniversary
Posted Feb. 19, 2019
The Queenswood Villa retirement residence celebrated its 25th anniversary on Feb. 9 with a special casino day. The residents and their family members were able to try their hand at Blackjack, Roulette and even a pair of slot machines while also having their picture taken to mark the special occasion.
Lifelong Queenswood volunteer to receive City Builder Award
Posted Feb. 8, 2019
It's hard to talk about the history of Queenswood Heights without talking about women like Lori Nash, Helen Tweddle and Lynne Stacey. Unfortunately, the former two ladies are no longer with us, but Stacey is still going strong at 80 years young.

Archives