Local news
Residents along Ottawa River busy preparing for potential flooding
Posted April 20, 2019
For the second time in two years, residents living along the Ottawa River near Cumberland Village are busy preparing for potential catastrophic flooding as heavy rain has seen the water rise over 14 inches in 24 hours. Read more
Maple Fest celebrates 50 years serving up flap jacks and sausages for charity
Posted April 7, 2019
"It was a little cheaper and the pancakes were better," says Fred Jones recalling the very first Cumberland Lions Maple Fest pancake breakfast in 1969. "Other than that it's pretty well stayed the same just different faces." Read more
Veteran of WWII, Korean War laid to rest in Navan
Posted April 7, 2019
The family and friends of Eric George Smith filled St. Mary's Anglican Church in Navan on Saturday to pay their final respects to a member of Canada's greatest generation and someone who was respected and loved by everyone who was honoured to get to know him. Read more
GoFundMe campaign raises $32,000 and counting for family of Orléans fire victim
Posted April 6, 2019
A GoFundMe campaign has been established for the family of a 20-year-old non-verbal autistic man who died in a house fire on Boake Street in South Fallingbrook early Wednesday morning.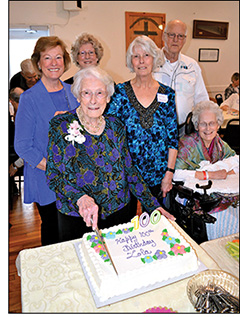 Sarsfield senior celebrates 100th birthday with friends, family
Posted April 4, 2019
When Lola Larmour was born, the First World War had just ended, cars were still a novelty and television hadn't even been invented yet. On March 31, = Lola celebrated her 100th birthday surrounded by her five children, 12 grandchildren, 13 great-grandchildren and five great-great grandchildren in the St. Mary's Church Hall in Navan.
Bradley Cup still creating memories 100 years later
Posted April 3, 2019
It's been more than 100 years since John Thomas Bradley first created the Bradley Cup in a challenge between his hometown Navan hockey team and a team from Vars. Navan won the game 1-0 in overtime and so started a tradition that has carried on through the decades and created a century of memories.

Archives