June is festival season in Orléans
Thus month I would like to start off by thanking our incredible volunteers who donated time, money and meals to combatting the Ottawa River Flood over the past month. My wife,Laura and I spent some time on my birthday helping Councillor Blais fill sand bags at the Cumber-land museum and I was so heartened by the community support for those in need.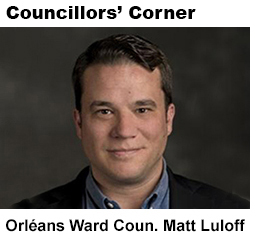 The Petrie Island clean-up has begun as the water recedes. City staff are dealing with the problems posed by contamination and the island remains closed to the public. Please stay away from the water, as it still poses a risk.
Due to the closure, CariVibe on June 15 has been relocated to Centrum Plaza. I'm looking forward to the festival and can't wait to see you down there!
The Shenkman Block Party will be held the day before CariVibe on June 14. Come out and celebrate 10 years of arts and culture in the heart of Orléans! There will be lots of activities for the kids too!
For the adults, the Orléans Beer Fest will be held on Centrum Blvd. from June 6-8. With the Orléans Brewing Company officially open and Broadhead moving to Lacolle Way, along with local favourites Stray Dog Brewing Company, we are quickly becoming a destination for great beer. If you plan on attending don't drink and drive.
Congratulations to Stray Dog for bringing home a gold trophy from the Canadian Brewing Awards for their Jagged Little Pilsner. With an Alanis Morissette reference like that, you couldn't be more local, or make us more proud!
Ottawa is on the lookout for a new police chief. If you have ideas on who you would like to see in the top job, make sure to share your comments with us.
Finally, I will be hosting our annual Senior's Bingo on June 21 from 9 a.m. to noon on Centrum Blvd. Presented by Tamarack Homes, Brandon and Megan's No Frills and dozens of incredible local businesses. Hope to see you there!
New initiatives aim to keep our children safe
What if it was your child? I hope this will only ever be a rhetorical question for speeders in our community. What is lost on some drivers is that speeding endangers the lives of their own family and their neighbours.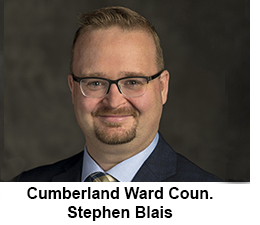 Speeding through school zones or past school buses is a serious issue. According to the Ottawa Police, between 2013 and 2017, there were 858 colli-sions resulting in 213 injuries involving school buses or occurring in school zones.
Of the 24 fatal collisions on Ottawa streets in 2017, 41% involved excessive speeding. This is why the City of Ottawa has been investing in new methods to encourage drivers to slow down, especially in sensitive areas near schools and parks.
The City has launched a pilot project called Constable Scarecrow: a life-size metal cut-out of Ottawa's Constable Luc Mongeon, pointing a radar gun at oncoming traffic. The cut-out is a deterrent measure used to slow motorists down on roadways where speeding is a chronic issue.
Based on a pilot project completed in BC last September, speeds were seen to decrease steadily in the presence of the police cut-out.
The day we launched the program a driver was caught doing 104 km/h on Portobello past TWO elementary schools!
Education and deter-rence is important, but so is enforcement. This is why the City of Ottawa is working to launch Photo Radar later this year. Stay tuned for more information.
Perhaps the only thing more dangerous than speeding through a school zone is passing a stopped school bus whose lights are flashing and stop sign out.
This is why I have been working hard to deploy video cameras on school buses. During a test in 2016, the camera system detected an average of five motorists passing the stopped school bus every day!
This week the City launched a permanent school bus camera program. For all the details visit www.stephenblais.ca.