As little ones return to school, please keep safety in mind
It is hard to believe, but back to school is just around the corner. This time of year can be very busy, as we are settling into many new (and old) routines. Whether travelling to and from school, getting to those extracurriculars, or simply helping our kids catch up with friends after a period of summer vacation, this time of year sees a jump in folks on our roads, sidewalks and pathways.
This is a good time to remind ourselves to take extra caution when we are out on the roads.
For those driving, make sure to slow down and take stock of those around you, drive the posted speed, obey the rules at pedestrian crossings, give cyclists extra space and follow the directions provided by crossing guards as they guide children and families through school zones.
For those cycling, make sure that you are following the signals at intersections and wearing visible clothing.
Speaking of crossing guards, it goes without saying that the dedication of these trained professionals make an inval-uable improvement to the safety in our neighbourhoods.
This year, the Ottawa Safety Council, the organization that manages all of Ottawa's crossing guards, is seeing a significant shortage in guards. If you have ever considered becoming a neighbourhood crossing guard, I would highly encourage you to visit crossing-guard.ca.
As kids go back to school, a great way to help remind drivers to slow down is by putting up a Slow Down for Us sign on your lawn. My office has these signs available, and I would be happy to drop one off at your home, or you can pick it up at my office.
Please reach out to me at Laura.Dudas@Ottawa.ca if you would like a sign.
Christie Lake Camp for Kids celebrates 100th anniversary
I've said it before, and I'm going to say it again. It is so great to be back in person with the community..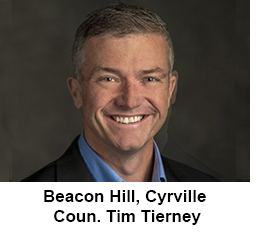 The Capital Fair, Movie Night in the Park, and the All Seniors Care Seniors Games are just some of the events that I have attended so far this summer. We sure are making up for the two summers that we lost.
One event in particular that really stood out this summer is The Proclamation of Christie Lake Kids Day which was held on Aug. 16.
This event brought the community together to celebrate the 100-year history of Christie Lake Kids, an incredible organization that has been delivering programs to underprivileged kids from Ottawa since 1922.
The program featured stories from youth who have participated and grown in the program, showcased some of the memorabilia of the organization's early years, and featured a number of photos of current after school and camp programs.
It was amazing to see what an impact Christie Lake Kids has made in so many people's lives, and it was a true honour to take part in such a special event.
Not only do I get to have fun at these gatherings, but I also get to get to know the people of Beacon Hill-Cyrville more personally.
It gives me a chance to hear the different concerns, ideas and hopes for our community. And it allows us to build up our community together, as it should be.
Things like new splash pads, skate parks, pedestrian crossings and stop signs take multiple people to put in place, from city staff to eager parents. I am truly grateful for all the people that help make our city great.
That's all for now folks. I hope you enjoy the rest of summer. 'Til next time.
During economic lull we should all prepare for looming recession
Hi neighbours! I hope everyone is enjoy-ing the beautiful weather this summer is
offering us. Lately, it seems, we are being hit by one thing after another, so it is important to take a moment to breathe, rest and remind ourselves that is necessary to take a break. I'm beginning to think we are going to need it.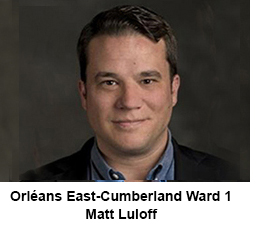 While I'm always opti-mistic about the future, years of profligate spending at the federal level has crowded out private investment and it looks like we're headed into a recession.
The disruption to private business and supply chains during the pandemic was at least in part avoidable as I've mentioned in previous columns, and it has certainly made matters worse. Had the government relied on broader advice when determining how to handle the pandemic, perhaps we wouldn't be in this position.
But recessions do not have to be painful. Carefully managing our finances, paying down debt and taking the opportunity to look at priorities is a healthy exercise. With MPAC assessments put off another year, we've been spared a round of tax hikes, but it really is simply kicking the can down the road.
So it's time to look at everything we do and how we do it. It's time we got back to basics. We must concentrate on the essential services of a municipality, and avoid vanity and pet projects that eat budgets while providing questionable results to only a narrow subgroup of individuals.
Picking and choosing winners and losers is not a becoming exercise for any level of government and it leads to further division in an already fractured society. It undermines our unity and it undermines democracy. Governments should get back to basics, govern for all and get their books in order.
I am leery of the motives of any public official promoting any other approach. With the worst of the pandemic behind us and a recession ahead, we're in the eye of the storm. Let's take the break to get ourselves in order.
South Orléans road issues remain a top priority for local councillor
You've heard me say this before, but it merits repeating – one of the most pressing issues facing the south end of Orléans is that development has outpaced infrastructure. Our current road network is at capacity, and yet there are many more areas slated for development.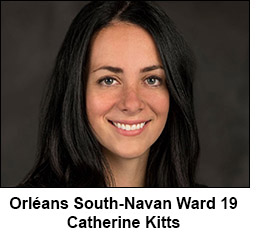 At present, the issue is being exacerbated by multiple construction projects that have lanes reduced or closed, and every day I'm hearing from you that the congestion is maddening.
In March, I put forward a motion directing the Minister responsible for the NCC to strike a joint committee with the City of Ottawa to resolve the impasse on the Brian Coburn extension and Cumberland Transitway within 100 days. Despite being unanimously approved by my council colleagues, the Minister has not yet acted on our request.
While frustrating, I remain optimistic that a long-term solution to this stalemate can be found, but I am also exploring what actions can be taken in the short-term to provide relief.
A concern that is brought forward to my office constantly is the intersection of Brian Coburn Boulevard and Tenth Line Road. Residents have reported difficulty in making a left-hand turn on a green light – noting that it is at times dangerous to make the turn. I, too, have witnessed this many times.
I have directed City staff on several occasions to conduct traffic studies on this intersection to address residents' concerns, but earlier this month, I took matters into my own hands. My staff were on the ground making our own observations to strengthen the case that a solution needs to be found for this problematic area.
At my request, City staff are currently re-evaluating the intersection and determining whether when measured against other problematic intersections in the city, it can be prioritized for modifications that would improve its safety and functionality.
Pedestrians, cyclists and drivers in South Orléans deserve to feel safe on our roads, and I remain committed to moving our community forward in a healthy direction.