Long-term planning calls for Brian Coburn Extension
Infrastructure in the east end has not kept pace with development. For more than a decade, this has been uncomfortably accepted as fact, as our streets become increasingly congested, putting mounting pres-sures on our residential communities and our ability to develop eco-nomic opportunities.
That is why, a letter recently sent from the National Capital Commission to the City of Ottawa expressing a lack of support for Option 7 which would extend Brian Coburn Boulevard to Anderson Road, is dismaying and frustrating for myself, my east-end Council colleagues, and the residential communities living with increasingly excessive traffic congestion.
Option 7 is the only design proposal that provides the current and future residents of Orléans and the surrounding areas, with a long-term plan for a southern arterial roadway; as well as an important multimodal connection to the heart of our city and Stage 1 of our new Light Rail Transit (LRT) system.
It is plainly obvious that the increasing demands on our existing roadway infra-structure are not sustainable.
As the municipal representatives for Ottawa's east end, Councillors Tierney, Luloff, Blais and myself have written to the federal candidates asking for their support of Option 7. At the same time, we are calling on the NCC and the federal government, to partner with us and support the only design option that offers a definitive solution for our residents.
The Brian Coburn Boulevard Extension is decades overdue, and Option 7 is the most efficient, effective, and long-term solution to a problem that has been ignored for far too long. The other options put forward would only increase the volume and congestion on existing roadways while failing to provide a direct link to the south end. Option 7 provides a framework for such a connection and is indicative of the type of long-term, forward-thinking planning that is required for sustainable growth in our city.
LRT a game changer for Beacon Hill-Cyrville residents
We finally did it, Ottawa! On Saturday, Sept. 14, we marked a momentous day in the City of Ottawa, as we finally launched light rail. This new transit system is going to be a game changer for not only the residents of Beacon Hill-Cyrville, but the entire city.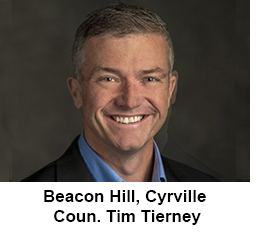 I was out with my staff on launch day handing out commemorative pins and greeting many excited transit users. I am proud to finally have this system up and running; but our work isn't done yet as this is just a precursor to the big game changer… Phase 2! Phase 2 is what we need to have Phase 1 make more sense.
With the exciting launch of LRT, I know many of us are now looking forward to Phase 2. While it's still a few years away, I wanted to look ahead to an exciting addition coming in the next phase; the new Montreal Road LRT station. This is going to be an amazing hub for transit in Beacon Hill providing many residents a crucial link to the rest of the city. My office has received many inquiries to how the station will look and function so I've put together a nice package on my website that you can view at www.timtierneyottawa.ca.
One final note on transit, as our friends at OC Transpo have been saying there's a #ReallyBigServiceChange coming to the system.
Many bus routes in the city are changing on Oct. 6 to better service O-Train Line 1. These changes will help make ensure the reliability of our local routes by taking them out of the downtown core avoiding much traffic congestion. Please check out the OC Transpo website to learn more and see how your commute might change.
I also had the pleasure of joining his worship Mayor Watson and other dignitaries to mark Franco-Ontarian Day on Sept. 25. Our francophone community has and continues to contribute so much to our city and I'm proud we can take a day to celebrate our thriving bilingual city.
As always, if you have any questions please feel free to contact my office at 613-580-2481.