Beacon Hill-Cyrville councillor pushing to reopen 417 on-ramp
I have heard from many residents in Beacon Hill Cyrville and in the east end about the Hwy. 417 east bound ramp on St. Laurent Blvd. heading north.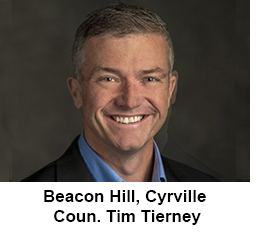 This ramp had been closed around the same time as the ramp at the 174 and the Split, and I know many were expecting this ramp to open back up once LRT construction was done. Unfortunately, this isn't the case.
More than four years ago the Province of Ontario, through the Ministry of Transportation, had indicated that this east bound ramp access would be permanently closed to regular traffic, leaving it open to emergency vehicles only. This has now caused new problems on St Laurent forcing north bound drivers that want access to the east end.
Some people are opting to use roads like Ogilvie and Innes instead, but many drivers are simply taking a U-turn onto south bound St. Laurent and accessing the ramp on the other side of the street which creates traffic issues. Because of this I submitted an inquiry at city council requesting that we, the City of Ottawa, contact the MTO asking: What is the rational for this closure? Will this closure will be re-assessed in the future? Are there are any plans for modification in the future?
I hope to get a clear answer for residents on the future of this ramp, so please stay tuned as we wait for more from the Ministry of Transportation.
On the local front, I'm very excited to confirm that a project to bring new lights to both the hockey rink and tennis court at Combermere Park is moving ahead! This is a project I have been pushing for and I've also received lots of positive feedback on it when I've discussed it in the community.
If you would like to see a rough timeline of the work or what you can expect to see happen during the installation, please visit my website at TimTierneyOttawa.ca I hope you're all as excited as I am to see this much deserved upgrade move forward. I can't wait to see you on the ice!
As always, if you have any questions please feel free to contact my office at 613-580-2481.