Councillor helps launch Ottawa's new speed camera pilot project
I hope you are all enjoying the hot and sometimes balmy weather this summer season is giving us. By the time you read this, we as a city/region will have moved into Stage 3 of the province's reopening plan; aptly named Recover.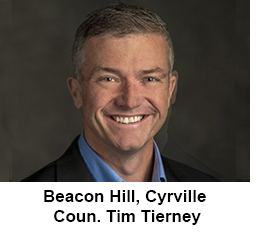 Stage 3 is geared to-wards long-term growth.
It means that the restric-tions currently in place will be loosened further, and nearly all businesses and public spaces will be reopened; and yes, this includes the use of play structures! There are still just a few high-risk places that are not safe to open; which include amusement parks, water parks, buffet-style food services and more.
Also, a great bonus of Stage 3 is the announcement that gathering limits are being increased. Indoor gatherings will increase to a maximum of 50 people, while outdoor gathering limits will increase to a maximum of 100 people. In all of these cases, individuals are still required to maintain the two-metre physical distance recommendation; especially if you're gathering with people that are not within your household or social circle.
On a different note, as Chair of Transportation, I was on site to launch the new speed camera pilot project which was kicked off on July 13.
There are eight loca-tions throughout the city's streets (near school zones), and four cameras. Two of the cameras are permanent, while the remaining two will rotate between the other six locations every 45 days or so. Visit Ottawa.ca for a list of all eight locations. The fines collected from the speed cameras will be directed to other road safety initiatives in Ottawa.
My hope is that the project is a success; and provides enough evidence to justify having these cameras at more key locations throughout the city. I don't have time for speeders, and so if this can be an effective way to slow them down in their tracks, I'm all for it. Hope you're staying well, safe and cool! Until next time!
Moving to Stage 3 is good news, but vigilance is still needed
Over recent months, Ottawa residents have taken the necessary steps to curb the spread of COVID 19. As a result, Ottawa was able to enter Stage 3 of the reopening process last week, meaning that nearly all businesses and public facilities will be reopening with new health and safety measures in place.
All park play structures and equipment are open, although everyone must still remain physically distanced and should wash their hands or use hand sanitizer after. As well, restrictions are being relaxed on outdoor facility and sports field rentals for organized sports groups. The city has begun considering rental requests for indoor events in August for up to 50 people.
Indoor and outdoor pools have re-opened for public and lane swimming by reservation, as well as for modified swimming lessons. You can book city facilities using the new online reservation system on Ottawa.ca.
On July 15 city council approved a temporary bylaw to make masks mandatory in all indoor public spaces. Masks continue to be required on all OC Transpo buses and the O-Train as well on transit property. Masks are not required for young children, people with medical conditions and disabilities that prevent them from wearing a mask, and people who can't use a mask without assistance. More information is available on ottawapublichealth.ca/masks.
While we must remain vigilant to prevent new infections, it is important that we also be understanding and kind to each other as we adapt to the "new normal".
We must remain vigilant against COVID-19 to prevent resurgence
Well, with Canada Day behind us, summer is in full swing. A special thank you to all the neighbours and local businesses who stepped up with music, decorations and fun this physically distanced holiday. I sorely missed our traditions of Senior's Bingo and fun at Petrie Island and can't wait until we can do it all once again.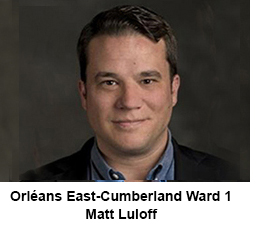 After posting my Canada Day message, Laura, Libby and I enjoyed an afternoon in the sun with our friends in their backyard pool. After the public pools closed in March, we missed out on Libby's first swimming lesson session, so it was extra nice to see that she's just as enthusiastic about the water as her dad!
It's hot, and it is going to be hot for the foreseeable future. As I write this, a heat warning is in effect, and looking at the 14-day forecast, it looks like this wave won't be letting up any time soon. Splash pads and beaches are now open across the city and we are working very hard to safely reopen our other amen-ities, so please be sure to stay up to date with what is and is not open quite yet on the city's website. Also be sure to drink lots of water while ensuring our furry friends stay hydrated, too!
If you have been missing the camaraderie of patio season, many of our incredible local businesses are now open for patio service. After the long pause, it is nice to be able to enjoy a burger at Corner Bar, a delicious meal at the Royal Canadian Legion 632 (who have a new chef and updated menu), enchiladas at Mexi's or a pint at The Royal Oak, Taproom 260 or Jonny Canuck's, to name a few. Be sure to be patient and kind with serving staff and observe all precautions when venturing out. We are faring well here in Ottawa, and the last thing we need right now is to have to return to Stage 1 all over again.
On that note, I want to thank you all for remaining vigilant during this pandemic. I am so impressed with how caring we have been to each other. As I have said before, wearing a mask in public and respecting the space of others is an act of love for one another. Be sure to stay up to date on the latest advice from Ottawa Public Health by visiting www.ottawapublichealth.ca and following the links. Information is updated daily and our operations are adjusted accordingly.
As always, my staff and I are here to assist you with any questions you might have, so please never hesitate to reach out. We are available between 8:30 a.m. and 4:30 p.m. Monday to Friday at 613-580-2471 or any time at matt.luloff@ottawa.ca. Stay safe!