Orléans is blessed with an abundance of outstanding youth
For over 15 years, this paper and its editor, Fred Sherwin, have been highlighting incredible youth achievement in the arts, academics, sports and community service.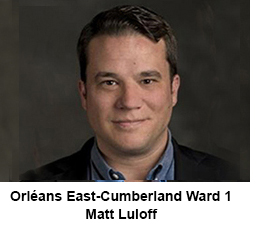 Celebrating young leadership in our community is so important, as it encourages and recognizes personal growth and achievement in a public and supportive way.
This is an incredibly bright generation, more globally aware and interconnected than any that has come before. This includes my own generation, rocked in the early 1990s by the advent of the Internet.
In my sojourns to elementary and high school classes to talk about civics, I am always impressed by the thoughtful, well-informed questions and discussion. These youth are bright, and every mind deserves a break every once in a while.
I have been particularly impressed with a few projects I have had the honour of visiting in recent years.
The students at Carine Wilson Secondary School set up a mock UN refugee camp to illustrate both the difficult conditions and the services offered to those displaced by war – it was moving.
At École élémentaire catholique Jeanne Sauvé, the students competed for funding for a project to improve their school – now, classrooms feature beautiful plants providing a calm atmosphere (supported by École secondaire Gisèle Lalonde).
St. Peter High School has several very active student groups and find ways to celebrate and support each other – they also run a very successful food drive every year – and the students at Sir Wilfrid Laurier Secondary School do an excellent job with their Toy Mountain.
This is merely a snapshot of what our bright, young people are doing together.
The Orléans Star's Outstanding Youth Awards over 20 amazing youth in our community every year. As one of the judges, I have the privilege of reading about their amazing accomplishments and picking the recip-ient is never an easy task. Each nominee is deserving in their own right to be recognized as "outstanding". I salute them all.
'Tis the season to learn about the city's winter operations
I can't believe winter is already here! As the city gears up for yet another season, ensuring the safety and accessibility of our roads, sidewalks, and pathways for all is a top priority.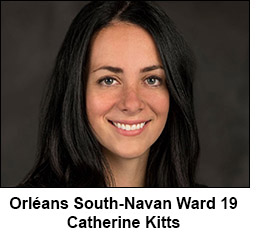 The winter maintenance program continues to evolve, update its standards, and find improvements. This year's changes include around-the-clock maintenance of sidewalk/cycle networks, rotation of starting points on residential beats, and embracing a data-driven approach to winter weather events by deploying more efficiently.
RIt's also important to stay informed and be in the know of road conditions and winter parking bans. When a parking ban is called, parking your car on city streets is prohibited unless you have a residential parking permit.
Parking bans are called to support winter operations and the decision to call one isn't taken lightly. When there are no vehicles on the road, operators can more effectively clear the roads and catch basins of ice and snow. You can register to receive e-notifications whenever a winter weather parking ban is announced. Visit ottawa.ca to sign up.
Reminder that crews strive to achieve an initial cleanup of resi-dential roads within
10-16 hours from the end of a significant snow event (7 cm or more). If you have a winter maintenance related request that exceeds that time frame, your best bet is to first call 3-1-1.
My office is also more than happy to help should complications arise.
On a more festive note, as the holidays approach, let's come together to make a positive impact in our communities. Whether it's donating to the food bank or resource centre, volunteering your time, or supporting a charitable cause, every act of kindness counts.
I also hope to see you at the annual Santa's Parade of Lights in Orléans on Saturday, Nov. 25 at 6 pm along St. Joseph Blvd.! Here's to a safe and happy holiday season.
City forms emergency shelter task force to tackle homelessness
Our city is faced with a homelessness crisis this winter, as a surge of demand has overwhelmed existing shelters and overflow facilities.
While the demand has been higher for all of 2023, since the summer, the system has faced unprecedented demand, and is now beyond capacity. This need has grown exponentially over just the past weeks and is now largely newcomers. Both those new to the shelter system - which is up 167%, as well as people newly arrived to Canada, now making up half of shelter users. As you read this, there are over 250 people living unsheltered, and will need to access shelter services this winter. There are no beds available. We know that number will increase as people arrive in Ottawa, or residents lose their housing.
This Taskforce is co-chaired by myself, as Chair of the Community Services Committee, and the Mayor. We are supported by Councillors Stéphanie Plante, Ariel Troster, Marty Carr, and Allan Hubley. In addition to fast tracking the municipal response, the Taskforce will support the Mayor's efforts to seek funding from Federal and Provincial governments, while also seeking access to unused federal buildings from the Federal Government.
We will continue to press them, and work with City staff and community partners on developing immediate solutions and actions required to address the crisis, but we cannot mince words, there is no easy solution. With winter coming, this problem will only get worse. City staff and community partners have worked incredibly hard over the past weeks and months, but staff have made clear that without new space, there will be dire consequences for some of our community's most vulnerable.
This Taskforce will work with all City departments; to cut red-tape, to fast-track solutions, and to knock-down doors, but this is an absolute crisis, and will require an equal response.
Beat the winter blues by joining the Gloucester 50+ Centre
Hello, my fellow Eastenders. I hope this autumn season has been treating you well. As we enter November, I look forward to collaborating with my east end council colleagues more. We have three important events coming up to take note of.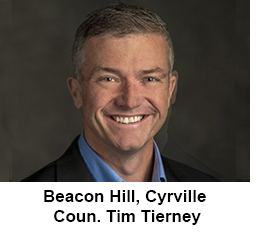 - Remembrance Day at the Royal Canadian Legion 632 in Orleans, Nov. 11, 10am-12pm.
- 2024 Joint Budget Consultation, Nov. 18, 12:30pm-2pm.
- Orléans Parade of Lights, Saturday Nov. 25, 6pm-9pm.
As the city gets colder and the snow draws closer, many of us at the City begin to brace ourselves for the added responsibilities and challenges that come with an Ottawa winter. As Chair of Transportation Committee, I can assure you that our Winter Operations crews have been busy preparing for what is soon to come. Though many, not all challenges we face in winter take place on our roads. The colder weather also results more isolation. That is why I thought I'd take this opportunity to promote an outstanding organization in my ward that also services Orleans, the Gloucester 50+ Centre! The following is an excerpt from their website.
The mission of this Centre is to enhance the quality of life of seniors of the City of Ottawa by disseminating relevant information and providing recreational, educational, cultural, and related support services mainly through the utilization of senior volunteers.
The Gloucester 50+ Centre invites seniors 50 years of age and over to join our growing membership. Located in the Pat Clark Community Centre, the Centre is open Monday to Friday from 8:30 a.m. to 3:30 p.m.  The Centre offers various activities that cover a wide span of interests, special events and so much more.
The membership fee is $40 per year. This fee entitles you to participate in weekly unstructured activities at a nominal fee and structured programs at a reduced rate.
Drop by the Centre and we will be pleased to show you around. You are welcome to try out any of our activities. The coffee is always on, and the fun, friendship and activities are yours for the taking. Our Executive Director is Sharon Oatway. For more information drop by or give us a call at (613) 749-1974.
More info can be found at https://www.gloucester50pluscentre.ca/. Till next time.