Residents asked for input on new east end library location
Exciting News: The Ottawa Public Library is looking to build another branch in Orléans!
This week they are launching a public engagement process that will inform and lead to the establishment of a new Library branch to serve the growing community in Orléans, Cumberland and surrounding areas.
The Ottawa Public Library is looking to hear from residents, as they determine where the most needed and wanted services would be for a new location south of Innes Road.
The first step in this process is the launch of an online survey via the City of Ottawa's Engage Ottawa platform, Engage.Ottawa.ca. Offered in both English and French, the survey will be open until October 4.
The Ottawa Public Library is also trying to gather movement data to support decision-making regarding the location of the new branch. For this analysis of traffic patterns, they are asking residents of Orléans and the surrounding areas to highlight places in the community that are part of their daily, weekly, and monthly routine.
Public input will be sought in as many ways as possible, in an open and transparent process, and will be adapted to respond to the changing pandemic realities. Further steps will include virtual focus groups with community stakeholders and a virtual open house to report back to the community in early 2022.
Ward Office update and office hours
Additionally, I am excited to announce that with the completion of the renovations at the Lois Kemp Arena (the Blackburn Arena) I am able to open my ward office once again.
I will continue to be holding virtual office hours, as well as offering in person services for residents. To ensure we are meeting COVID-19 restrictions, I am asking that residents send me an email in advance at Laura.Dudas@ottawa.ca, so that we can set up a time for us to meet safely.
Spice up your fall by staying safe, not by spreading COVID
Autumn is finally here and it seems to have creeped up on us fast. Our office will be turning over a new leaf this fall as we carve out some time to connect more with residents and the neighbourhood again.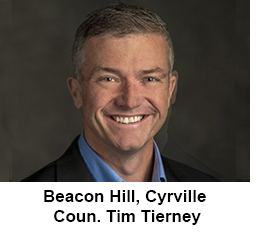 The little ones are heading off to school, the nights are colder and soon we'll be seeing pumpkin spice drinks and gourds galore! I hope everyone is staying safe, taking time to relax or catch up with family and friends.
As the school year ramps up, I'd like to give a gentle reminder to motorists to watch their speed. As I always like to say, I have no time for speeders. Red flashing stop-arm-lights on school buses and crossing guards keep our kids safe.
Speaking of which, Ottawa needs crossing guards! Please, if you can, sign up to be an adult crossing guard online at Ottawa Safety Council.
In other news, I am pleased to see Stage 2 LRT construction moving along well and rail finally returning to Gloucester. Shake, rattle, and rail! As workers have been stacking lengths of railway in the median of Hwy 174 just east of Montreal Road, I've been bursting with excitement!
In these last few weeks, crews poured a total of 187 m3 of cement on the new Blair Station to 174 Median Rail Bridge, connecting the existing line to the east end. Keep an eye out for installation between Montreal and Jeanne d'Arc this fall.
Ottawa Public Health (OPH) has often stated that some people are at greater risk of getting COVID-19 because of their work conditions. To support employers, getting vaccinated is now easier than ever; workplaces, community organizations, places of worship and other groups can now request a mobile vaccination team to administer first and second doses on-site, at their own location.
For more information about mobile community clinic requests, please visit OPH's website.
Let's hope this autumn leaves a smile on all our faces. Spice up your fall by staying safe, not by spreading COVID.
Wishing everyone a safe, healthy and happy return to the classroom
I'm sure many of you join me in feeling like the summer just flew by! My thoughts are with all the parents, teachers – and most importantly the kids – in hoping for a smooth transition into the school year and to a schedule that has been disrupted for such a long time.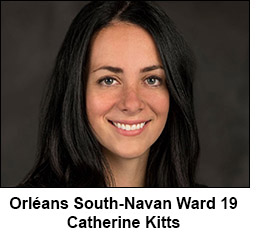 Last fall, as in-person learning began, families experienced incredible challenges accessing COVID-19 testing for kids. Council has been assured that there will be several key differences for back-to-school and COVID-19 testing this year compared to the 2020-2021 school year.
Parents, students and staff will be asked to self-assess for symptoms daily and stay home or seek a COVID-19 test if required, according to the province's current testing criteria.
With the move to appointment-based testing, we won't see the long lines or wait times we saw last year. It's anticipated that same-day or next-day appointments will be available, which is the goal of Ottawa Public Health.
The Ray Friel COVID-19 Testing Centre provides a great kid-friendly testing experience for children over six months of age. You can book an appointment at booking.monfort.on.ca, or by call-ing 613-288-5353.
There is also greater clarity around symptom guidance in comparison to last September. Parents should seek testing for their child if a symptom is new or worsening and not related to other known causes or conditions.
For example, students who have symptoms due to pre-existing or ongoing conditions, such as allergies, will not require a test to attend school. You can view the list of symptoms that would warrant a COVID-19 test in children at health.gov.on.ca.
I know that back to school can be stressful in the best of times, and that many may be feeling more anxiety than usual. Remember that there are mental health services available for residents of all ages. A good list can be found at ottawapublichealth.ca
Wishing everyone a safe, healthy and happy return to the classroom!
Vaccine holdouts putting their neighbours and community at risk
The days are getting shorter again and summer is starting to wind down though it feels as though it has just gotten started. Businesses are reopening and indoor dining has returned, but there remains a threat of a fourth wave of COVID-19. I want nothing more than to avoid it.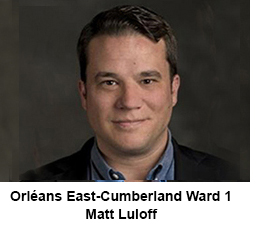 My wife and I – along with many of you – took the very first vaccine that was made available to us. We are protected from the worst of this now, as all of the Health Canada approved vaccines will prevent hospitalization and death. Yet we are seeing cases rise in the province and across Canada. Why? The answer is clear: the unvaccinated. I'm not talking about the immunocompromised who cannot accept a vaccine. I am sure you're being careful anyway. I'm talking about anti-vaxxers and conspiracy theorists.
You see, I still hear a lot of people talking about their rights and their right to choose what's best for them and their family, and of course I support that, however, every single right we enjoy comes with a heaping serving of responsibility.
If you choose not to get vaccinated, you should not be putting others at risk around you. You should not be out on patios, mask off, hooting and hollering to live music.
If you choose to exercise your right not to be vaccinated, it is still your responsibility to protect others. Others, like my children, who cannot yet be vaccinated. When you choose not to take the vaccine and go about your business that you may now conduct due to the prudence of those around you who took personal responsibility for this and got the vaccine, you're being a selfish, arrogant boor.
There are no more excuses. Walk-ins are accepted at the remaining community clinics. Take responsibility for the safety of others or take responsibility for the fourth wave, everything closing again and putting innocent children at risk. Seems like an easy choice to me. Just get the darn vaccine.