Councillor will not support proposed limit on garbage bags
As many have heard, City staff are review-ing how garbage is managed in Ottawa, and preparing recommendations on how to improve collections, and keep recyclables and organics out of our landfill sites. Their assessment determined that a full 58% of mater-ial in the garbage could be recycled or composted through the green bin.
This work is incredibly important. The City's Trail Road landfill is filling up fast – expected to be at end-of-life, as early as 2036. Additionally, the Ontario Government has mandated a province-wide target of 70% reduction and recovery of household food and organic waste by the end of this year. As well as requiring a complete ban of all organic waste from landfills for 2030. Right now, only 44% of residential food and organic waste is being diverted in Ottawa.
As part of this Plan, staff are actively exploring long term options, including a new landfill and waste to energy facility (inciner-ation). These options could take up to 15 years to establish and cost $300 to $450 million.
In the short term, in an effort to encourage residents to divert organics and recyclables out of the landfill, we have heard that staff will be recommending that each household be given an annual allotment of 55 garbage tags, requiring residents to tag all garbage, and allow the option to purchase additional tags as needed.
While I support the intentions, I cannot support this recommendation as presented.
While there is definitely room for improvement on how we can get more into our blue,
black and green bins, we need to have recom-mendations that are not punitive for those of us that are throwing out a "normal" amount of unavoidable trash. Whatever option ultimately moves forward must focus on encour-aging those who are making no effort to sort, and exclusively toss everything in the garbage. It cannot be an onerous and bureaucratic imposition on literally all Ottawa households.
Celebrate Summer Fair returns for first time since pandemic
This is our busiest time of year in the office, but it's also my favourite! The majority of our community events take place in May and June, with school visits, school tours at City Hall, end of year BBQs and much more.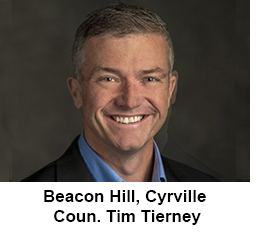 Speaking of which, the 11th annual Celebrate Summer Fair is around the corner! Activities include fair rides Friday to Sunday, a Friday evening dedicated to good ol' Karaoke fun and a Saturday filled with free food and activities. There will also be live music face painting, bouncy castles, Marvin the Magician, a trio of Disney and superhero characters and much more.
This is one of the biggest annual events in Beacon Hill-Cyrville, and I hope to see some of our neighbours from Orléans join us for one of the most awesome community events in the city! Check out CSFAIR.CA for full details. In other news, I am pleased to share that I am now the 3rd Vice President of the Federation of Canadian Municipalities (FCM).
My FCM debut was in 2010, and I have had the privilege of representing Ontario as Caucus Chair for the past ten years. The role of FCM is to advocate for Canadian municipalities and be a voice for citizens when federal policies and programs are being developed.
I would like to thank the many people across the city who stepped up in our time of need, took time away from loved ones and helped support the many storm relief efforts city-wide. Our city has faced storms, outages and flooding this spring, and we only made it through because of the dedication of our emergency service employees and other city staff members including my city council colleagues.
I also want to thank our community for their response to these events. I saw and heard of many instances of neighbours helping neighbours, charity and kindness. I am truly proud to belong to such a positive and supportive community.
Entire community will mourn loss of Queenswood Heights giant
Last week, we lost a legend when Al Tweddle passed away. Words can't express the deep sense of loss that so many of us feel. I feel gratitude for having known him and for his incalculable contribution in equal measure.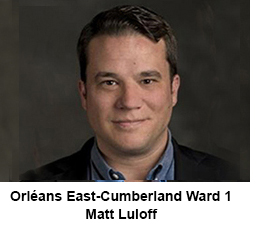 Al was a mentor, a community builder, a loving husband and father, a grandfather and great-grandfather, a rink volunteer for over 50 years, the man who started and led Friends of Petrie Island, a staple on the Queenswood Heights community association, founder and caretaker of the tennis club at QHCC, a chemical engineer, and so so so much more. To me, he was a cherished friend and a trusted advisor.
Al and Helen Tweddle leave a legacy in the community that they helped to build, and in their incredible children and their families. They are together again.
Al left everything that he touched better than when he found it. We are all so grateful for his selfless contributions to our community.
The world would be a better place if we all a little more like Al. My deepest condolences to his wonderful family and to all those whose lives he enriched.
Al worked hard on the projects that were close to his heart, until the last moment. Last month, I met him at his home to discuss the upcoming season on the island and in Queenswood Heights. His resolve was strong, and his mind was as sharp as ever. I will miss him so dearly.
So, the next time you take a walk on Basswood Trail, play tennis in Queenswood Heights, buy a book at the Friends of the Ottawa Public, see a turtle basking on a log or book a barbecue site at Petrie, look up, smile, and think of Al and Helen. That warm sun you feel on your face - that'll be the Tweddles smiling right back at you.
Goodbye, friend. And thank you from the bottom of my heart.
Transportation Master Plan can't forget South Orléans-Navan
After a spirited debate at council on April 26, the city's Transportation Master Plan (TMP) Part 1 was approved. This plan will guide how we move through our city for the next 25 years.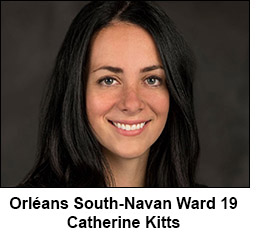 After raising concerns about the lack of attention to rapidly growing areas of our City, like South Orléans, I worked closely with transportation staff to ensure that our community's needs will be addressed in Part 2, which will come in the latter part of 2025.
During the meeting, I presented three motions that were all approved. These in-cluded exploring ways to allocate increased funding to major infrastructure projects in areas of significant new development, paying particular attention to mobility deficits in growing communities, and including a section of Navan Road from Brian Coburn to the Blackburn Bypass in the Crosstown Bikeway Network.
But another win was the important conversation that took place at the council table about development vs infrastructure and how the latter has not kept pace with the former.
The transit options currently available in South Orléans and the surrounding rural area are limited and often unreliable, resulting in long wait times. On a good day, a typical com-mute from South Orléans to downtown takes over 75 minutes one way.
Although lands reserved for a bus-rapid transit corridor in South Orléans are owned by the city, they remain vacant due to an ongoing dispute with the NCC over the Brian Coburn extension. Additionally, the under-utilized park-and-ride facility in Chapel Hill South is not justified by the few routes available.
The current infrastructure for active trans-portation in South Orléans is also inadequate, with disconnected bike routes and a lack of walkable amenities and employment opportunities.
Every day we live the result of having so few options: traffic congestion—leading to longer commutes, increased emissions, and reduced quality of life.