During these trying times a little kindness can go a long way
Like many of you, I am finding this period of social isolation difficult. While working from home brings more opportunity for me to see my wife and my daughter, it also presents challenges with work creeping in to all the little nooks and crannies of our personal lives. I am also terribly disruptive to their routine, popping up when I have a few minutes just to connect and say "Hi".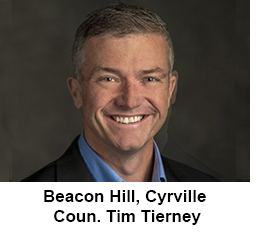 While we all appreciate the time we can spend together, it does seem to present extra challenges as we settle into this "new normal."
Further, the range of activities we can do together as a family has been severely reduced. The ability to pop over to the bookstore and grab a coffee while browsing new books to bring home and read to our little one is something I wish I'd never taken for granted.
This situation also poses some chal-lenges in my work life. When I was able to work from City Hall, it was very easy for me to drop in on a General Manager to help move a particular issue forward in a more informal way, and is something that I sorely miss. Now, all meetings are so formal with scheduling video chats, and as we all know very well, there are only so many hour-long blocks in a day.
That being said, we have still been able to accomplish a lot over the last few months, but with reduced capacity to meaningfully connect, or the chance to bump into someone you've been meaning to chat with in the cafeteria at lunch, it really isn't the same, is it?
Everyone's path through this is different and just as tough to navigate.
I think it is important to recognize that while our challenges may not be the same, they are challenges, nonetheless. What I'm asking today is that we work hard to show each other compassion and understanding. We can never know how hard this has been on everyone we interact with from day to day so let's be kind to each other.
A little kindness can go a long way, especially during these trying times.
As always if you need any assistance you can reach me at matt.luloff@ottawa.ca.
Up-to-date COVID-19 information available through variety of sources
Throughout the COVID-19 pandemic, there have been stories of loss and of struggle, but there have been countless more stories of hope and of individuals, businesses, and groups who have made a real difference and impact on the community.
In recognition of these extraordinary acts of generosity, I have launched the Heroes of Innes Award. This Award recognizes those who have gone above and beyond to help
others during this difficult time, and reflect on the positive stories during this tragic situation.
Since the launch of the Award a short time ago, I have been floored by the outpouring of nominations sharing inspiring acts of kindness and selflessness, such as the story of a resident who has been conducting senior wellness checks in his neighbourhood. Or the young grocery store clerk who has continually gone into work with a smile and a joke to bring a smile to her customers' faces.
These are just two of the nominations for everyday heroes that the Award has received to date; I look forward to reading many more. I encourage you to nominate them as a Hero of Innes at: www.LauraDudas.ca/heroes-nomination/.
Supporting our Local Businesses
Now, more than ever, we need to support our local businesses. To that end, I have posted a list of local businesses that are still open and ways to support them at www.LauraDudas.ca/support-local-businesses/.
Additionally, as all levels of government have been working to deliver much-needed support to businesses and organizations, I have also developed an online business resource section on my website to help connect with many of these programs. Visit: LauraDudas.ca/business-resources-main/.
These past few weeks have been a challenge for all of us, however it is only by working together as a community, helping and supporting each other that we will all get through this – #inthistogether.