Orléans councillor shares tips on how to prevent COVID-19 spread
Well, neighbours, like many of you, as I write this I am on Day 13 of physical distancing and working from home. This is a particularly difficult time for all of us.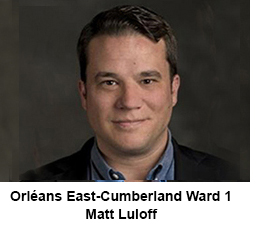 Some of us do not know what is going to happen to our jobs, our small businesses, our coworkers, our children's school year, our aging and ill family members, and frankly, ourselves.
For those of us with younger children, it's incredibly difficult to come up with a never-ending list of activities to fill their time while we struggle to meet our commitments. We're worried about everything I have listed above and more. We're anxious and antsy and we don't know when this will end.
I'm with you. I'm struggling with this, too.
But I want you to know that all three levels of government are working together to get us through this. Twice a week, I'm meeting remotely with Stephen Blais, Marie-France Lalonde and Laura Dudas, sharing your concerns and working through the issues.
I continue to work with our General Managers and the Mayor as well as our Community Resource Centres, service groups, school boards and the BIA. My team and I are at your service to answer questions and work on your priorities. Give us a call at 613-580-2471 or email us at matt.luloff@ottawa.ca.
Wash your hands and take care of each other.
If you have respiratory symptoms, such as a fever or cough:
- You must self-isolate for 14 days, or 24 hours after your symptoms have fully resolved, whichever is longer.
- You must not leave your home.
- If your symptoms are worsening and cannot manage at home, please visit your nearest emergency department.
If you are returning from travel:
- You must self-isolate for 14 days. Do not go to community settings, including the grocery store. If you need groceries or other essential items, have a family member, friend or neighbour get them for you and leave the items at your door.
- If you have respiratory symptoms, follow the guidance in the section above.
- If you do not have symptoms, practice physical (social) distancing as outlined below.
All Ottawa residents, except those listed above, should:
- Practice physical distancing. o The people you live with do not need to distance from each other unless they are sick or have travelled within the past 14 days.
- Avoid all non-essential trips in the community.
- Cancel all group gatherings.
- Connect via phone, video chat or social media only.
- Talk to your employer about working from home, if possible.
- Avoid visiting elderly friends or relatives unless the visit is essential.
- Avoid crowds and maintain a distance of two metres from other people when you go outside, like to take a walk.
As always, if you have any questions please feel free to contact my office at 613-580-2471.