Orléans Ward councillor launches new website
It's been a busy few weeks. We passed the 2019 budget, providing the funding for projects like the resurfacing of St. Joseph, making much-needed repairs and upgrades to the Bob McQuarrie and Ray Friel Centres, and improving our parks and public spaces. You can find a full summary of the investments for Orléans Ward on my new website at www.matthewluloff.ca.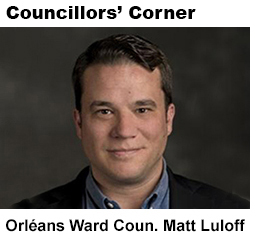 After hours of questions and debate, Council approved Phase 2 of LRT and now, both of our federal and provincial partners are on board. This important project will bring four new stations to Orléans: Jeanne D'Arc, Boul. d'Orléans, Place d'Orléans and Trim Road.
The LRT will be a major draw for business and I'm doing everything I can to set the conditions for economic development and job creation here in Orléans. I'm working to renew and enhance our Community Improvement Plan, expanding the Secon-dary Plan for Place d'Orléans to include an 800m radius around LRT stations, and am working closely with our community to encourage new business spaces, new rentals and the revitalization of Orléans. I'm looking forward to the launch of Phase 1 of the LRT.
Delays and detours have been incredibly frustrating, and I feel it too. While a transfer at Blair will add an additional hurdle to our commute, we will no longer have to spend precious minutes stuck on the MacKenzie-King Bridge or Albert or Slater. Reliability of our connecting routes will increase dramatically, taking a lot of the guesswork and frustration out of our mornings and evenings.
I'm also working to deliver on my promise to improve our local bus service. I will be officially opening my new office at the Ray Friel Centre on April 27 from noon to 3 p.m. Join us for a free skate from noon to 1 p.m., warm yourself up with a hot chocolate and stick around for a chat and my team and I.
Pair of events celebrate the arrival of spring
Unlike in Game of Thrones, Winter is over and Spring has finally begun to show us some signs of life.
As the snow melts away and more and more of our neighbours are out and about please be mindful of how we drive throughout the neighbourhood. Speed-ing, rolling stop sign or taking that call aren't worth it compared to the potential of taking a life.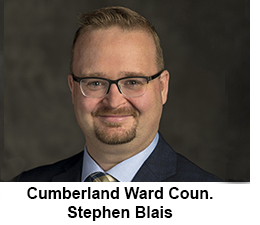 There are some important events that have become a tradition to welcome the spring that I would encourage you and your family to consider. Supporting local small businesses and neighbourhood organizations ensures we will continue to live in a dynamic and engaging community – the best place to live and raise a family in Ottawa.
The Cumberland Lions Club will be hosting its 50th annual Maple Fest Pancake Breakfast on Saturday, April 6 and Sunday, April 7 from 8 a.m. to 2 p.m. The two-day fundraising event has been celebrated each year for the past 49 years on the arrival of Spring and the funding generated from the event is channeled back into the community through much needed donations to non-profit groups and organizations.
Maple Fest has become an important family tradition for many in our community including for my wife, son and I. Last year, over 1,500 meals of all-you-can-eat pancakes, sausages and maple syrup were served.
The Cumberland Market is holding a special spring Market on Saturday, April 27 with over 75 vendors at 5 locations across Cumberland Village. All products at the market are grown or made locally. They are sold directly by the producers or by designated representatives. The Spring Market will run from 9 a.m. to 3 p.m. For more information visit www.cumberlandfarmersmarket.ca.