We must remain vigilant against COVID-19 to prevent resurgence
Well, with Canada Day behind us, summer is in full swing. A special thank you to all the neighbours and local businesses who stepped up with music, decorations and fun this physically distanced holiday. I sorely missed our traditions of Senior's Bingo and fun at Petrie Island and can't wait until we can do it all once again.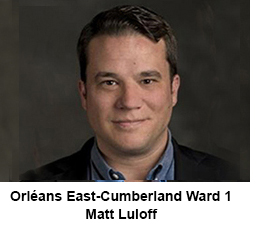 After posting my Canada Day message, Laura, Libby and I enjoyed an afternoon in the sun with our friends in their backyard pool. After the public pools closed in March, we missed out on Libby's first swimming lesson session, so it was extra nice to see that she's just as enthusiastic about the water as her dad!
It's hot, and it is going to be hot for the foreseeable future. As I write this, a heat warning is in effect, and looking at the 14-day forecast, it looks like this wave won't be letting up any time soon. Splash pads and beaches are now open across the city and we are working very hard to safely reopen our other amen-ities, so please be sure to stay up to date with what is and is not open quite yet on the city's website. Also be sure to drink lots of water while ensuring our furry friends stay hydrated, too!
If you have been missing the camaraderie of patio season, many of our incredible local businesses are now open for patio service. After the long pause, it is nice to be able to enjoy a burger at Corner Bar, a delicious meal at the Royal Canadian Legion 632 (who have a new chef and updated menu), enchiladas at Mexi's or a pint at The Royal Oak, Taproom 260 or Jonny Canuck's, to name a few. Be sure to be patient and kind with serving staff and observe all precautions when venturing out. We are faring well here in Ottawa, and the last thing we need right now is to have to return to Stage 1 all over again.
On that note, I want to thank you all for remaining vigilant during this pandemic. I am so impressed with how caring we have been to each other. As I have said before, wearing a mask in public and respecting the space of others is an act of love for one another. Be sure to stay up to date on the latest advice from Ottawa Public Health by visiting www.ottawapublichealth.ca and following the links. Information is updated daily and our operations are adjusted accordingly.
As always, my staff and I are here to assist you with any questions you might have, so please never hesitate to reach out. We are available between 8:30 a.m. and 4:30 p.m. Monday to Friday at 613-580-2471 or any time at matt.luloff@ottawa.ca. Stay safe!
Staying informed is the best way to stay empowered against virus
I would first like to begin by thanking all the frontline, essential workers, doctors, nurses (and anyone else I may have missed) for the time they're spending away from their families while trying to keep all of us safe during this crisis. I think I can speak for all of us when I say that now more than ever, we are so very fortunate and so proud of all these amazing people doing everything then can to help us overcome these difficult time.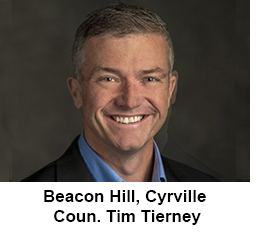 Keeping my residents informed with the latest news has been extremely important during these uncertain times. When this whole thing started, we were publishing our e-newsletters practically daily. That's literally what had to be done because of the mass amounts of information being thrown at us. Seeing as much of the key information has already been distributed by our federal provincial and municipal counterparts, my office has pivoted to a twice-a-week format. The amount of time that goes into every letter is huge, and I have my entire team to thank for helping put it together each and every time.
I've also been doing daily video updates that you can catch on my Facebook page. I summarize the day's news from all three levels of government, and then cap things off with some good news stories or, as I've coined them, "my silver linings" segment.
In an effort to lift spirits and lessen some of the side effects of being quarantined, I host weekly Zoom coffee-chats with the Gloucester 50+ Seniors Centre. At the beginning, we heard from our MP and MPP with updates from their levels of government regarding their supportive efforts in the fight against the effects of COVID-19. Since then we've had Mayor Watson, a colleague from Ottawa Public Health, the Ottawa Public Library, and Ottawa Police take time out of their busy schedules to share information with the group. We also took a walk down memory lane with the Gloucester Historical Society. We get a good turnout every time, and it's become one of the highlights of my week!
Finally, I hope that you, your families, your loved ones, and your friends are fairing well. We will get through this, stronger and better than ever!
Heroes of Innes Awards recognize residents working on the front line
The past several weeks have not been easy. The pandemic has forced us to stay home, stay away from loved ones, and for many, caused financial and mental stress.
However, throughout this health crisis, the selfless acts of many in our community have pro-
vided a source of joy and support. It is in recog-nition of those individuals, businesses and groups who have gone above and beyond to help others during this pandemic, that I launched the Heroes of Innes Award.
The Heroes of Innes Award acknowledges and celebrates those in our com-munity who are putting others first and working to ensure their friends, neighbours, and even complete strangers are being supported during these difficult times.
After putting out a call for nominations a few weeks ago, the response I have received has been overwhelming and truly shone a light on some of the positive stories happening in our community every day.
There is the young woman who, at the outset of the pandemic, recognized the urgent need for non-medical masks and turned her sewing hobby into an act of generosity by sewing masks to distribute for free to her friends, family and neighbours.
We have heard about a grocery store clerk who retained her winning sense of humour despite being on the front lines of the health situation and went out of her way to tell jokes to make her customers smile, even behind their masks.
Then there was the story of a medical professional who has been living apart from his family to protect them from potential exposure to the virus, while he works every day to care for others who have fallen ill.
These are just a small sample of the stories of compassion that have come to light following the call for nominations for the Heroes of Innes Award. Nominations are still being accepted through my website at LauraDudas.ca. Winners and sponsored prizes will be announced weekly in June through video posts on my website, on social media, as well as on CFRA's "The Goods" every Sunday morning.
I want to thank all those in our com-munity who are putting the needs of others first and bringing us joy at this difficult time.
Supporting our Local Businesses
Now, more than ever, we need to support our local businesses. To that end, I have posted a list of local businesses that are still open and ways to support them at www.LauraDudas.ca/support-local-businesses/.
Additionally, as all levels of government have been working to deliver much-needed support to businesses and organizations, I have also developed an online business resource section on my website to help connect with many of these programs. Visit: LauraDudas.ca/business-resources-main/.
These past few weeks have been a challenge for all of us, however it is only by working together as a community, helping and supporting each other that we will all get through this – #inthistogether.