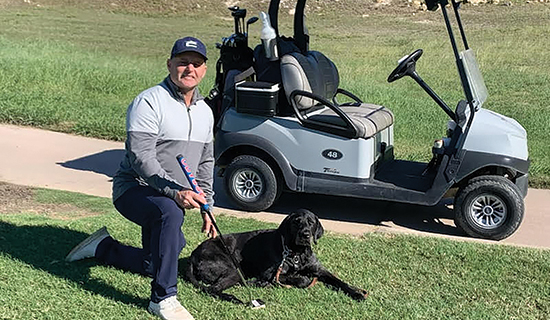 Kevin Frost with his new service dog Woody. FILE PHOTO
When blind deaf athlete Kevin Frost had to retire his guide dog last September, he had to start the rather length process of getting a new one, which can often take months. Lewis was Kevin's faithful companion for nine years. He traveled with him and kept him out of harm's way wherever they went.
When Lewis had to be retired it was both the most difficult decision he has ever made in his life and the easiest.
"I was sad because I was losing a faithful companion, but at the same time his healthwas starting to fail and he needed his own time," says Kevin.
Lewis eventually succumbed to kidney cancer in January.
It has taken 11 long months to get a new dog. Woody is a four-year-old Labradoodle. Kevin was able to bring him home last week. The two will now go through a bonding process that could take up to sixth months.
"It's a learning process for both of us," explains Kevin. "He's going to test my boundaries and I'm going to test his you know. After awhile, once get to know each other really well, you come to an under-standing built on mutual respect."
At the end of the day, Kevin will spend more time with Woody than his wife or kids. That's because they are together virtually night and day.
Woody will also need to be trained to accompany Kevin on the golf course. For those who don't know, Kevin is a com-petitive golfer having competed at both the national and international levels.
The last tournament he played in was the IBGA World Blind Golf Championships in Cape Town, South Africa in March where he finished seventh in his category.
In order to help Woody get used to being in a golf cart, Kevin has been taking him to the Pineview Golf Club and using their golf carts for practice.
Kevin is hoping Woody is a quick learner. His next tournament is a Canada vs U.S.A. team challenge event in Arizona at the end of the month being organized by the U.S. Blind Golf Association.
Away from competitive sports, Kevin received a Lifetime Achievement Award from Mayor Marc Sutcliffe in May for 25 years of service to the community both on his own and as a member of the Orléans Lions Club.
Frost also published an autobiography in March entitled "Death Blind Champion". It has sold over 1,000 copies on Amazon so far and the recently released audio book has sold over 100 copies.
Proceeds from the sale of the book are going to the Canadian Guide Dogs. He presented his first check to the organization last month in the amount of $100. .