The number of COVID-19 cases in Ottawa's three east end wards went up by 45 per cent during the two-week period between March 8 and March 22.
According to the last update of Ottawa Public Health's COVID Ward Map, there were 141 cases reported in Orléans, Innes and Cumberland Wards between March 8 and March 22 – that's 44 cases more than were reported during the previous two-week period between February 23 and March 8.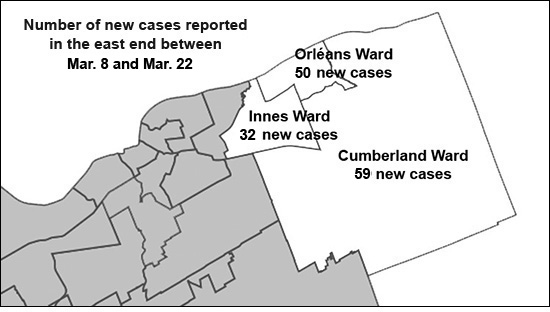 The number of reported cases in Orléans Ward increased from 32 to 50, while the number of reported cases in Innes Ward increased from 24 to 32. The number of reported cases in Cumberland Ward also increased going from 41 to 59.
City-wide there were 1,040 reported cases in Ottawa between March 8 and March 22, that's a 57 per cent increase from the previous two-week period when there were 664 reported cases.
The increase in reported cases is reflected in the number of active cases which current-ly sit at 817 as of 3 p.m., Wednesday. That's a 17 per cent increase from the number of active cases on March 10.
The average positivity rate for the seven-day period between March 17 and March 24 is 4.63 per cent which is significantly above the 2.4 per cent that is the benchmark to shifting between the orange zone and the red zone.
The incidence rate, which is the second factor used to determine which zone a region is placed in, is 55.1 per 100,000. The rate required to move back into the orange zone is 40 per 100,000 or lower.
The one positive indicator is the reproduction number which is 1.16, which is well within the orange zone reproduction cut off point of 1.20.
Under the red zone designation, private social gatherings are limited to a maximum of five people indoors and 25 people outdoors. Restaurants are limited to four people per table and no more than 50 per cent of their normal capacity or 50 people whichever is lower. Alcohol cannot be sold after 9 p.m. and the restaurant must close by 10 p.m.
Gyms and fitness centres are limited to 10 people per class and 10 people in areas with weights and exercise machines as long as a three-metre physical distancing buffer can be maintained.
Another leading indicator of the impact of the COVID-19 virus is the number of hospitalizations. As of yesterday, there were 26 people being treated for the coronavirus in Ottawa area hospitals, including seven who are being treated in intensive care.
Sixty-five people have died since Jan. 1, 10 of whom succumbed to the virus over the past two weeks, bringing the total number of COVID-19 related deaths in Ottawa to 457.
According to Ottawa Public Health, there have been 501 cases in Orléans Ward since the pandemic began, excluding long-term homes and retirement residences, 615 cases in Innes Ward and 824 cases in Cumberland Ward.
All told, there have been 353 cases in long-term care homes and retirement residences in the three east end wards since the pandemic began. That's an increase of only one since March 10.