One man's front yard can be another man's sugar bush providing you have a few maple trees on your property.
In the tiny village of Navan, located just 10 minutes southeast of Orléans, there are about a dozen maple syrup lovers who have decided to make their own golden elixir using sap from their own trees.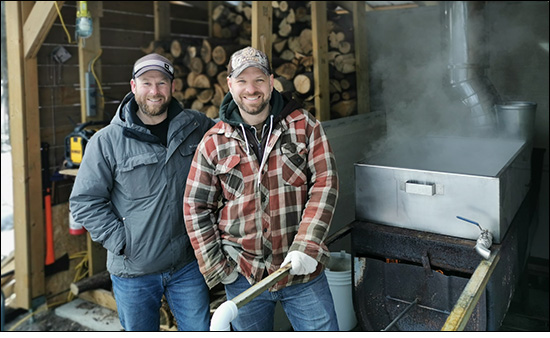 Friends Attila Kisch and Luc Picknell are pictured in their sugar shack in Picknell's back yard in Navan. FRED SHERWIN PHOTO
Pierre Gravelle has been making his own maple syrup for the past four years. He taps eight trees on his own property plus four trees on his neighbour's property. Last year, the trees produced seven litres of syrup. His wife uses it as a sugar substitute in her baking, while he enjoys it over pancakes, French toast or waffles. The couple's two daughters also get a couple of litres, as does the neighbour.
After collecting maple sap from his trees, Gravelle boils it down to syrup using a large stainless steel pot over a propane burner on his front porch. It can take anywhere from four to five hours to evaporate all the water and boil the syrup down to the right viscosity.
Friends Luc Picknell and Attila Kisch first started tapping their own trees five years ago. Over time they were joined by friends and fellow Navanites Mathieu Boulianne, Brian Moore, Tim Bernardi and Kyle Edwards.
Together, the group produces 18 litres of syrup from 75 trees, using a wood-fired evaporator in Picknell's back yard.
When it comes to Navan's backyard maple syrup producers, Gerald Grimes is the veteran of the bunch with more than 25 years exper-ience. He taps more than 500 trees near Sarsfield which yield between 450 and 500 litres of the liquid gold a year.
Grimes has his own backyard sugar shack where he boils down the sap using a large evaporator and a seemingly endless supply of wood which he says gives the finished product a much nicer flavour.
The maple syrup season only lasts about four weeks from the end of February until the end of March. It takes 40 litres of sap to make one litre of syrup. The amount of syrup you can produce is entirely dependent on the weather.
"You could fill a bucket on good day and other times it could take you a week," says Peter Frisk who taps eight trees on his Clark Woods property.
The sap runs best when you have cold nights and warm days and very little wind.
"When the wind's blowing, it's like turning off the tap on your sink," says Grimes.
Producing maple syrup is a pretty simple process. All it takes is a spigot to tap into the tree and a bucket. Total cost is about $10.
Once you have the sap, you need a heat source – either wood or propane – and a lot of patience. A syrup hydrometer is also handy to measure the sugar content. And while sugar maples produce the best syrup, any maple tree will do.
For the backyard maple syrup producers in Navan, making their own syrup is very much a labour of love.
"We don't do it to save money," jokes Frisk, who loves the fact that maple syrup season is a sure harbinger of spring. "When the sap starts running, you know spring is just around the corner."
Picknell loves being able to get together with his friends every weekend in March to boil down their maple sap over w few beers in his backyard.
The other advantage of making your own maple syrup is the personal satisfaction one gets when you consume a product you made yourself.