Connor and Ryan Ouellette take a break to play shinny with a friend on an outdoor rink built by their father Guy Ouellette on their property in Cumberland. FRED SHERWIN/PHOTO
Is the seemingly endless COVID-19 pandemic getting you down? Are you suffering from cabin fever while doing your best to obey the provincial stay-at-home order? Well there are a number of ways you can get some fresh air while staying socially isolated.
Thanks to the volunteer efforts of outdoor rink managers, you can go for a skate in almost every neighbourhood in the east end, just as long as you wear a face mask and there's no more than 25 people on the ice at a time – and no hockey sticks allowed.
Thanks to the recent cold weather, the skating conditions on outdoor rinks in Cumberland Village, Navan, Cardinal Creek, Fallingbrook, Queenswood Heights, Convent Glen, Chapel Hill and Blackburn Hamlet couldn't be better.
Vincent Francoeur manages and maintains the puddle ice skating pad in Millstone Park in Cardinal Creek Village. A puddle pad is smaller than a normal outdoor rink and doesn't have any boards.
Francoeur in charge of flooding the rink, keeping it clear of snow and organizing a small team of rink ambassadors to make sure everyone respects the COVID-19 rules.
"The rink is fairly small so we don't get that many people. It's mostly being used by parents who bring their kids," says Francoeur who feels the rink is especially important this year with everything going on. "It's one of the rare things you can do outdoors without worrying about the virus."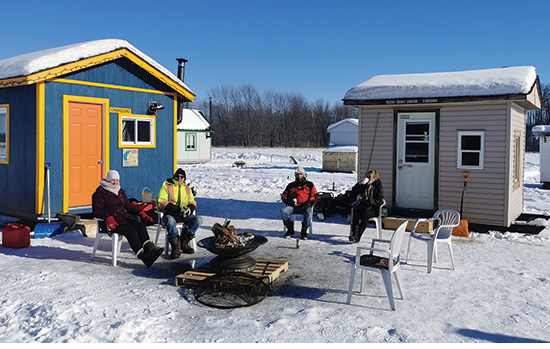 Michel and Lucie Neveau (left) take a break from ice fishing on Petrie Island with another couple. FRED SHERWIN/PHOTO
For every neighbourhood rink in Orléans there are several dozen backyard rinks. In fact, outdoor rinks have even been popping up in some front yards.
Guy Ouellette created an outdoor rink on his property near Sarsfield around a car, an old combine and a basketball net. His three kids use it every day.
"It's a perfect excuse for them to get outside and get some fresh air, especially when all their classes were online. When you're online five and six hours a day you need a break from the computer," says Ouellette, who also created a two-kilometre snowshoe trail and a toboggan hill on the four-acre property.
Orléans residents are indeed lucky to have so many parks and pathways-turned- snowshoe trails in their midst. On any given day, you can see kids sledding in the Apollo Crater or Gardenway Park in Fallingbrook, Sunview Community Park in Queenswood Heights or Decarie Park in Orléans Wood.
One of the most popular destinations for people seeking a break from the COVID winter blues is Petrie Island, where people can go snowshoeing, cross country skiing, and arguably one of best suited activities for social distancing – ice fishing.
Petrie Island has always been a popular destination for the winter pastime, going back to when Orléans was a small rural village on the road to Montreal.
During a visit to Petrie Island last Saturday, there were no fewer than 75 ice fishing huts on the ice.
Joanne has been ice fishing near the island since she was a little girl. On Saturday, she was there with her partner and her father.
"It's nice to get away from the house and be out in the fresh air. It's very therapeutic," said Joanne who has caught a 4 lb. pike and an 8 lb. pike while ice fishing near the island.
In order to cut down on the number of sightseers who visit the ice fishing village, Oziles' Marina and Tackle Shop, which manages the site, has prohibited vehicles from coming on to the ice, which is fine by long-time Petrie Island ice fisherman Michel Niveau.
"It's a lot quieter, that's for sure," said Neveau who can often be found keeping an eye on the fishing lines around his hut, "The Blue Moon", with his wife Lucie.
The couple have been coming to Petrie Island every chance they can during the recent shutdown. Like many of their fellow ice fishing enthusiasts they see it as the perfect way to stay isolated while still enjoying the great outdoors.
"Everyone is six feet apart. You get lots of fresh air and sunshine. And you sleep well at night," says Neveau.
"Besides there's nothing left to watch on Netflix," Lucie chimes in.
A basic full day ice hut rental with a stove costs $85. The premium package which includes eight tip up fishing lines, eight drilled holes, minnows and a dipping spoon costs $145. It's best to reserve your rental in advance by calling the Oziles' Marina and Tackle Shop at 613-841-0778.