If you are looking for a way to alleviate some of the stress you've built up while trying to live under the shadow of the COVID-19 pandemic, you should consider spending a weekend in Westport.
Combine a night or two at the Victorian Luxury Suites with a sunset dinner at the nearby Schneuermann Vineyard & Winery and the pandemic will seem like a distant memory.
François Scheuermann (left) is the owner of Scheuermann Vineyard & Winery in Westport along with his wife Allison. PHOTO COURTESY OF PICSELLS INTERNATIONAL
The Scheuermann Vineyard & Winery was founded in 2011 by the husband and wife team of François and Allison Scheuermann. It took four years for the vineyard to produce enough grapes to make the winery's first vintage in 2015, which was a grand total of 400 bottles. A year later with 8,000 vines on 6.25 acres of land overlooking Westport Sand Lake, they produced 2,000 cases.Today, the winery produces its trademark Cabernet Franc, a Chardonnay, a Vidal and a sparkling white named Les Bulles.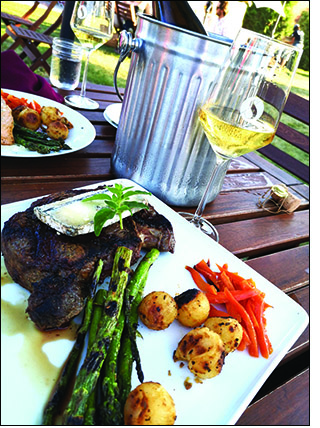 The rib steak perfectly cooked with aspargus, honey glazed carrots and baby potatoes. PICSELL PHOTO
Besides making some of the finest wine in all of Ontario, Scheuermann Vineyard & Winery also makes some pretty good wood-fired pizza which you can order during regular operating hours, Monday and Tuesday 11 a.m. to 5 p.m. and Thursday through Sunday 11 a.m. to 8 p.m. (They are closed Wednesdays.)
But if you really want to enjoy all Scheuermann's has to offer, book a reservation for their wood grill dinner seatings on Friday, Saturday or Sunday when you can choose between a thick, juicy rib steak served with honey glazed carrots, grilled asparagus and baby potatoes, or a fish entrée which on different nights can be Salmon, Arctic Char, or even Walleye.
On the evening I visited the winery, the choice was between the rib steak or grilled salmon. For the sake of wanting to provide Orléans Star readers with a thorough review, I decided to order both, but not before sampling the artichoke dip appetizer which was delicious as was the salmon.
But the star of the evening, besides my server, Hunter, who I will get to later, was the rib steak. At 17 ounces, it was a behemoth morsel of beef marinated in herb butter and topped with a thin slice of blue cheese.
Having learned his trade as a chef in the French school of cooking, François tends to cook a little under as opposed to a little over. So, if you order your steak medium rare, as I did, it tends to be more on the rare side than medium. If you prefer your steak with a nice pink in the middle, then definitely order it medium.
The meal itself was only matched by the service. Olivia, or hostess, couldn't have been nicer, and Hunter, who I referred to earlier, was a gem. He was attentive without being obtrusive and he knew the wine and food menu inside and out, probably because this is his second year at the winery.
Besides her hostessing duties, Olivia also makes a very tasty blueberry cheesecake which I had for dessert. In fact, everyone I met at the winery was as nice as can be. Everyone had a smile, which could be easily explained by the fact that the winery had just been allowed to serve food on the premises after weeks of uncertainty.
In actuality, the main reason for their remarkable rapport with their customers and each other is the family atmosphere Allison and François have created among the staff, some of whom have been there since they started serving food three years ago. How many restaurants do you know where the staff gets together after every dinner service and enjoy a meal together before heading home?
Finally, I would be remiss if I didn't mention the view you can enjoy when you simply take a walk around the main house. To the south is the vineyard with its rows of grape vines and to the west is the lake.
Sitting in an Muskoka chair while sipping from a glass of Chardonnay as the sun sets over the lake is one of the most serene things you will ever do during these stressful times.
And for those of you who are questioning my choice of two entrées, let me say in my defence that I donated a portion of my rib steak to the resident pooches, Sheba and Copa. I'm sure they enjoyed it just as much as I did.
The Victorian Luxury Suites in Westport is owned and operated by Stephanie Manston (inset). PHOTO COURTESY OF PICSELLS INTERNATIONAL
After dinner I returned to the Victorian Luxury Suites which is owned and operated by Stephanie Manstan – a native Newfoundlander who came to Westport last November by way of Toronto.
Stephanie bought the Luxury Suites to get away from the hustle and bustle of the big city. The Victorian-era home has been completely renovated and has five suites to choose from, all of which are luxuriously appointed with king size beds, kitchenettes and some of the most beautiful washrooms you will see outside of a showroom. The Loft's vaulted ceilings and full kitchen are a showstopper, while the Sunken Suite's double clawfoot tub for two is a romantic's dream.
Four of the suites have kitchen-ettes, while the Loft offers a full kitchen. All of the suites come with plush cotton robes and luxurious Egyptian cotton bedding.
Referring to The Victorian as a "bed & breakfast" is a slight misnomer as Stephanie has decided to drop the self-serve continental breakfast in order to put a greater emphasis on her guests' comfort and accommodation. If you feel like a bite to eat in the morning, there's a wonderful bakery just down the block that makes a delicious bacon, egg and cheese croissant.
Both the winery and the Victorian Luxury Suites have taken the necessary precautions to protect their guests against the COVID-19 virus and I felt totally safe during my visit. So much so, that I would recommend both establishments as the perfect way to get away from it all for a night, or a weekend.
The Scheuermann Vineyard & Winery is located at 82 Bedford Ave. You can find their website at scheuermannwinery.com.
The Victorian Luxury Suites are located at 16 Church St. in Westport. You can find their web-site at https://www.facebook.com/thevictoriansuites/.
(This story was made possible thanks to the generous support of our local business partners.)