Norman Coté is no ordinary 84-year-old. The Village Bruyére resident umpires up to seven fastball games a week. He runs regularly and bicycles up to 150 kms every week. All that cycling came in handy when Coté recently took part in the international Road Worlds for Seniors competition with 29 of his fellow residents.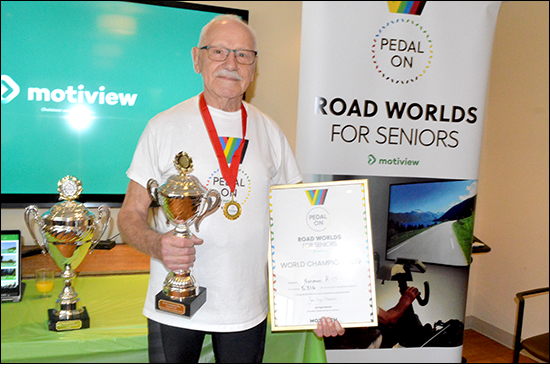 Norman Coté displays his championship trophy and certificate after winning the Road Worlds for Seniors event for the second year in a row. FRED SHERWIN PHOTO
The Road Worlds for Seniors has been held every September for the past three years. It involves pedaling a stationary exercise bike while viewing videos of roadways and bicycle paths from around the world.
The event is held by Norwegian company called Motitech, which developed the Montiview program which uses specially adapted indoor exercise bikes, video and sound, to take users on cycling trips through familiar surroundings and childhood memories.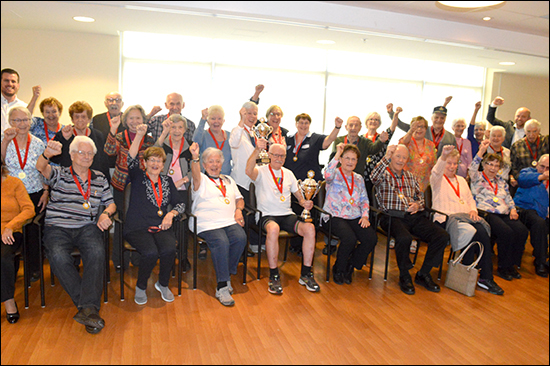 Team Bruyére celebrate after receiving their silver medals for placing second in the Road Worlds for Seniors competition. FRED SHERWIN PHOTO
Among the videos, residents at the Village Bruyére can use including a trip around Parliament Hill; another around the Mer Bleue Blog; a third along the Ottawa River bike path; and yet another along the Rideau Canal.
The first Road Worlds for Seniors was held in 2017 and had fewer than 1,000 participants in five different countries. Last year, more than 2,500 participants took part in nine different countries, including Canada. Competing in the event for the first time, the team at Village Bruyére managed to win the bronze medal in the team category lead by Coté, who was crowned World Champion in the men's division.
Coté was in third place with a couple of days remaining in the three-week event before he turned on the afterburners, cycling up to 200 kms a day to win the title going away.
This time around, he wasn't taken any chances. He started out doing 150 kilometres a day for the first three days. He then slowly ramped up his mileage until he was averaging over 200 kilometres a day. His highest single day total was 290 kilometres, which required more than eight hours on the bike.
"I didn't do eight hours at once. I broke it up," explains Coté. "When you're on the bike for more than four hours, it gets a little sore on the backside."
Coté ended up cycling a total of 5,316 kilometres, beating out his nearest rival by 3,682 kilometres. He also accounted for more than half of his team's total of 10,374 kilometres, which was good enough for the silver medal in the team competition, but an agonizing 137 kilometres short of the gold won by a team in Norway.
Village Bruyére's marketing and activity coordinator Chad Chartrand says Coté has become somewhat of a celebrity at the senior's residence which is located in Convent Glen North on the banks of the Ottawa River.
Motiview was originally introduced at Village Bruyére as a research project, both in their long-term care facility and their geriatric day hospital. It soon became apparent that it was an excellent, super low-impact fitness apparatus that can serve a variety of purposes such as in the rehabilitation of hip and knee injuries following knee and hip replacement. It can also increase balance and reduce the risk of falls.
According to Motitech, the system is also designed to help people with dementia be more physically and cognitively active by taking the user through familiar surroundings and childhood memories.
Village Bruyére purchased its first Motiview system using funds raised during its 2018 golf tournament.
The system is especially useful during the winter months when there is little or no opportunity to exercise or go for a simple walk outside. Residents can pedal as much or as little as they want to. They can either watch one of the videos that come with the system, or they can watch a movie or a sporting event on TV. Coté says he's often on the bike while watching the Ottawa Senators or listening to music.
For more information about Motitech and the Motiview system visit https://motitech.ca/motiview.
(This story was made possible thanks to the generous support of our local business partners.)