As small town institutions go, none are as important to local residents or more tightly woven into the fabric of the community than J.T. Bradley's Country Convenience Store in Navan. In fact, it is impossible to imagine what the east end community would be like without J.T. Bradley's.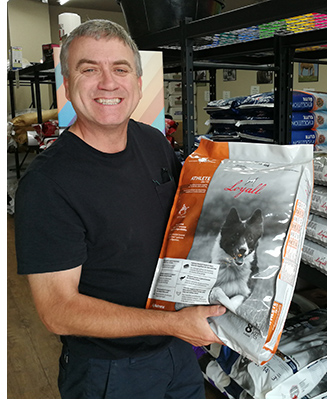 It is the common thread that has tied the community together for the past 120 years, and continues to do so thanks to its current propriertor, John Bradley who is the great-grandson of the store's original owner J.T. Bradley.
John Thomas Bradley moved to Navan from Blackburn Hamlet with his wife Florence and their six children in 1898. He opened a small country store soon afterward to serve the residents of the local village and the surrounding area.
One hundred and twenty years later, J.T. Bradley's is still the place to go for last minute groceries, a case of beer, your favourite bottle of wine, or a hot cup of coffee.
The store has undergone a number of transformations over the years. More recently, the store expanded to include a Purina Animal Feed component where rural and suburban customers can purchase feed and seed for everything from horses and sheep to cats and dogs and even birds.
J.T. Bradley's carries a complete line of Loyall Premium Pet Food, which is specially formulated for your pet's individual needs. Your pet's nutritional needs are influenced by a variety of factors, such as age, activity level and sensitivities. That's why Loyall's line of premium dry pet foods includes five dog formulas and one cat formula.
All Loyall pet foods are specifically formulated with natural sources of omega-3 and omega-6 fatty acids; organic trace minerals to promote healthy skin and coat; prebiotics to help support nutrient digestion; and high-quality chicken by-product meal provides the highest palatability and lowest ash content.
Besides the feed store, the LCBO outlet and general groceries, J.T. Bradley's also sells a number of products from Desjardins Catering including a wide variety of sandwiches and salads along with shepherd's pie and frozen lasagna, which make for great last-minute dinner choices.
J.T. Bradley's Country Covenience Store is located on Colonial Road just east of Trim. They can be reached by phone at 613-835-3781 or by e-mailing jt_bradleys@rogers.com . You can also visit their website at www.jtbradleys.com. Store hours are Mon. to Fri. from 6 a.m. to 9 p.m.; Sat. from 7 a.m. to 9 p.m. and Sunday from 8 a.m. to 6 p.m.