Outgoing provincial MPP Marie-France Lalonde will be have her name on the ballot in the this falls federal election after she won the Liberal nomination at a meeting Thursday night.
It took nearly seven hours for more than 2,000 registered members to cast their ballot at the Shenkman Arts Centre where the vote was being held. Lalonde was announced as the nominee elect shortly after 10:30 p.m., beating out fellow candidates Khatera Akbari and Jean-Claude Debuisson. The margin of victory was not made public.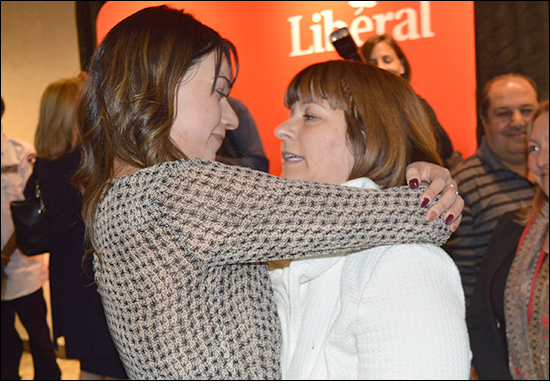 Marie-France Lalonde gets a hug from her daughter monica after winning the federal Liberal nomination last night. Fred Sherwin/Photo
After winning the nomination, Lalonde called on all Liberals to pull together to help keep the riding red.
"Tomorrow, right away, we are going to start door knocking in Orléans. We need to come together as a Liberal family to keep Orléans red," said Lalonde who is hoping to succeed Andrew Leslie as the member of parliament for Orléans.
The retired Lieutenant General announced he would be stepping down as MP in May after serving just one term.
Her main competition is Conservative candidate David Bertschi who won his party's nomination in June and has been actively campaigning for the past three months. The federal election is being held on Monday, Oct. 21.
The other names that will be on the ballot in October are NDP candidate Jacqui Wiens and Green Party representative Michelle Peterson.
Wiens is currently splitting her time between canvassing door-to-door and studying history and political science at the University of Ottawa. Her key issue is climate change and the need for Canadians to do more when it comes to reducing carbon emissions.
Peterson is a registered psychotherapist who has worked in the community services sec-tor in Ottawa for 15 years. She is a working single mom with a five-year old child who wants to champion the need for expanded mental health services in Canada.
(This story was made possible thanks to the generous support of our local business partners.)