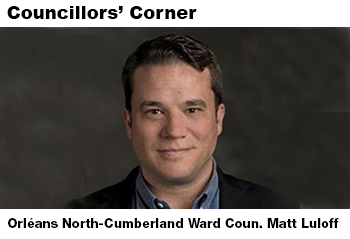 Events

---
NOSTALGIA entertaining from 6:30 p.m. to 10:30 p.m. at the Orléans Legion, 800 Taylor Creek Dr. for your listening and dancing pleasure. Buffet dinner served from 5 p.m. to 7 p.m.
THE RAG & BONES PUPPET THEATRE presents The Cow Show n the Richcraft Theatre at the Shenkman Arts Centre. A moosical history of the world from the point of view of the cow. Showtimes at 1:30 p.m. and 3 p.m. Tickets $10 each or 4 for $32. Visit www.ragandbone.ca/boxoffice/.

FREE TAX CLINIC from 9 a.m. to 12 p.m. at 206-250 Centrum Blvd. For individuals and families who otherwise have limited access to tax filing services due to financial issues. By appointment only. Call 613-834-8679.
SING-ALONG WITH THE F.R.O.G.s (Fully Rely On God) at St. Mary's Church Hall, 1171 Smith Rd. in Navan. Enjoy some much loved favourites as well as some Christian music followed by a selection of sumptuous soups and baked breads. Tickets $15. Call 613-841-6248.