The U12 Cumberland Panthers completed a perfect weekend for the football club with a 38-0 win over the Myers Riders in the A-Cup mosquito semi-finals on Sunday. A day earlier, the Panthers' U10 team downed the Orleans Bengals 42-0 in their tyke semi-final.
So in two games the Panthers beat their opponents by a combined score of 80-0. More importantly, both teams advanced to the A-Cup championships to be played on Nov. 5.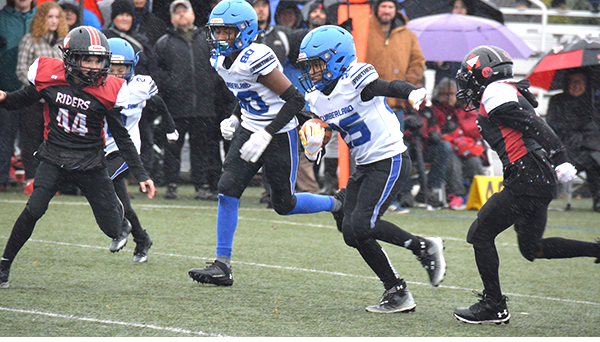 Cumberland Panthers running back Evan Nicholls runs through the Myers Riders secondary on his way to scoring his second of three touchdowns in the U12 mosquito A-Cup semi-finals on Sunday. FRED SHERWIN PHOTO
The Panthers have a chance to make it 4-for-4 when the club's U14 and U16 teams play their respective semi-final games this coming weekend.
The U12 Panthers completely dominated the Myers Riders in Sunday's mosquito semi-final. After Cumberland's offence scored two touchdowns on their first two possessions, the team's defence proceeded to shutdown the Riders, allowing just one first down in the entire game and even then it didn't come until early in the fourth quarter.
After the Panthers jumped out to a 12-0 lead, both teams had trouble holding on to the ball in the wet and windy conditions, commiting at least a dozen turnovers between them.
The Panthers' first two touchdowns were scored by Evan Nicholls on wruns of 55 and 27 yards.
The Panthers may have been playing the Myers Riders on Sunday, but their toughest opponent was the weather. It made hanging on to the pigskin extremely difficult and passing nearly impossible. The weather conditions led to the Riders having to give up a safety late in the first quarter rather than risk turning the ball over on downs deep in their own territory.
After a scoreless second quarter, the Panthers finally managed to add to their lead when Nicholls scored his third touchdown of the game on the first play from scrimmage following the halftime break.
Two more touchdowns in the fourth quarter by Carter Cain on runs of 30 and 33 yards would make the final score 38-0.
The Panthers must now prepare for the Cornwall Wildcats who beat the Nepean Eagles 51-12 in Sunday's other U12 semi-final.
The Wildcats beat the Panthers 28-12 in their only regular season match up in August. They will be hoping for a different result in their rematch in the A-Cup final.