When Team Ontario recently finished third and fifth at the U18 national women's tackle football championships in Ottawa they had a distinctive Cumberland Panther flavour. No fewer than 15 Panther players made the two teams which were designated as Team Red and Team Black. Eight were assigned to Team Red and seven played on Team Black.
The two teams played in two different pools which were pre-determined based on their seedings.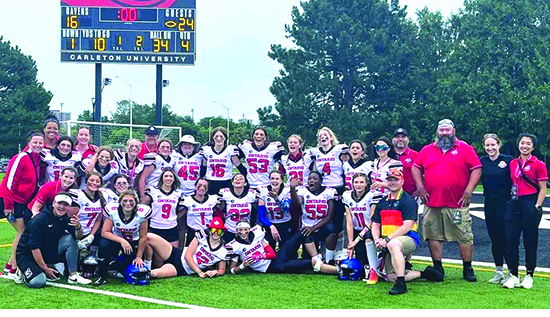 Team roster: Liana Langiano, Francesca Fazzari, Taryn Coleman, Calli Dorey, Oceanne Lalonde, Ava Coleman, Maja Bonar, Kalista Andrews, Katie Woo, Jorjanna Maggio, Isabelle Berube, Jessica Knight, Shelby Norwood, Teagan Roy, Kaliane Sterling Godue, Julia Beumer, Maya Thompson, Olamide Fadahunsi, Mylanka Brassard, Chloe Winterton, Marie Sartorio, Mackenzie Lagace Carasco.
Team Red ended up going 3-1, winning the bronze medal in the A pool, while Team Black went undefeated in winning the B Pool. Since there were four teams in each pool, the winner of Pool B was actually fifth overall.
The success of both teams was sweet redemption for the Panther players who were fresh off a disappointing loss in the U19 final at the Ontario provincial championships.
Team Ontario Red was coached by Cumberland Panthers head coach Mark Ouellet who has been the driving force behind the formation of a the women's tackle football program in the National Capital.
The program was only started last year. In fact, most of the Panther players only had one full season under their belts heading into the national championships.
That lack of experience didn't prevent them from helping Team Ontario Red reel off wins over Manitoba and New Brunswick to earn a spot in the semi-final against the defending champions from Alberta.
Despite losing 60-0, Team Red had a chance to redeem themselves against Saskatchewan in the consolation final. The result was an exciting 24-16 win.
Team Black first downed the National Indigenous team 70-0 to earn a spot in the Pool B semi-final. They then upended New Brunswick 39-14 to earn a spot in the final.
The Pool B championship game was a highly competitive affair with Team Black able to eek out a tough 8-0 win over Team Manitoba.
Ouellet started the Cumberland Panther girls tackle program last year as a way to give girls and young women like his daughter Emma, a chance to play tackle football.
After playing a series of exhibition games against other girls teams in southern Ontario last year, the Panthers were able to field two teams as part of the Ontario Women's Football League.
The U16 team finished the spring season with a 5-7 record, while the U19 squad placed second in their division with a 6-2 record and went on to play for the provincial championship where they lost to the London Wolfpack.
The Panthers are now gearing up for the fall season which gets underway on Sept. 16. Anyone interested in playing can e-mail Ouellet at ouellet.mark@gmail.com or visit the cumberlandpanther.com.