More than 2,000 people attended the Remembrance Day ceremony at the Orléans Cenotaph on Monday. Hundreds more attended ceremonies in Cumberland, Navan and Vars. FRED SHERWIN PHOTO
More than 2,000 people gathered in the damp and cold at the Orléans Cenotaph on Monday to pay tribute to the men and women of the military who sacrificed their lives in service to their country during war and in peacetime.
This year's ceremony was more poignant than past Remembrance Day observances due to the addition of the Afghanistan War Battle Honour on the façade of the monuments granite base.
One hundred fifty eight soldiers and three civilians were killed during the War in Afghanistan. That number does not include the 155 veterans who have taken their own lives after returning to Canada and developing Post Traumatic Stress Disorder or PTSD.
Among the many dignitaries at this year's ceremony was Orléans Ward city councillor Matt Luloff who served in Afghanistan in 2008 and had to deal with PTSD after a close friend and army buddy was killed just weeks before they were supposed to deploy back to Canada.
The illness was so debilatating that he ended up being medically discharged from the forces in 2009 and spent the next nine years in therapy, wrestling to get it under control.
On Monday, he was joined by his fellow east end councillors Laura Dudas, Stephen Blais and Tim Tierney in laying a wreath on behalf of the City of Ottawa. For Luloff, Remembrance Day is a time to reflect on the many friends he had in the military who didn't make it back, those that did, and the bonds they forged that have stood the test of time.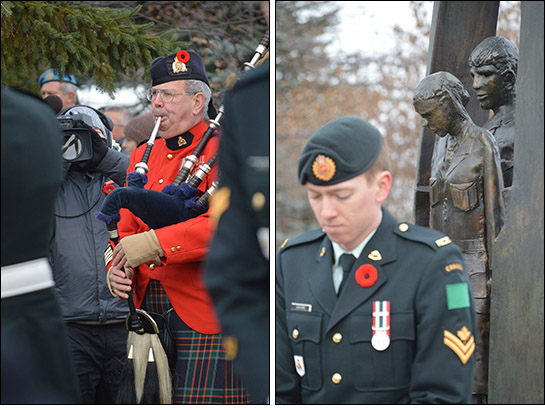 "Today, for me, is about the families of the fallen. It's about the brotherhood and friendship I had during those years and still have to this day and will forever. The comaraderie we shared and the friends we lost," Luloff said after the ceremony.
"When they say, 'They shall grow not old, as we that are left grow old' in the Act of Remembrance it is so true. When I'm 80 years old, if I get to be 80 years old, these guys will still be in their 20s and 30s."
The oldest participant on this year's Remembrance Day ceremony was 104-year-old Yvette Brisson Lapointe from Orléans who served during the war as a Sister Nurse. Her husband, who died in 1950, was a flight instructor for the Air Force and her two older brothers ferried Lancaster bombers from the Victory Aircraft plant in Malton, Ontario, to the RCAF base in Yorkshire, England. One of the brothers had the distinction of flying Winston Churchill to a meeting in Baltimore in 1942. Lapointe layed a wreath on behalf of Canada's surviving veterans.
(L to r) Councillors Laura Dudas, Tim Tierney, Matt Luloff and Stephen Blais pay their respects in front of the Orléans Centopaph during the Remembrance Day ceremony. FRED SHERWIN PHOTO PHOTO
Just as he has done in past years, former Orléans Legion president Errol Patrick layed a wreath on behalf of his fellow veterans who served in the Korean War and his son Kurt, who served in Afghanistan, did the same for his fellow Afghan War vets.
The elder of the Patricks said he was deeply touched by the number of area residents who continue to come out to the Orléans ceremony year after year in all kinds of weather.
"For me every day is Remembrance Day. Most of my friends and the guys I served with have all passed. I'm 89. But it's nice to see so many people come out to show their respect and appreciation for our military and the all the fellas who aren't with us anymore,"" said Patrick.
Similar ceremonies were held at Cenotaphs in Cumberland Village, Vars and Navan where several hundred people came out to show their respect. The solemn ceremony at the Orléans Cenotaph was punctuated by a flyover by three CF18s on their way back to Bagotville, Quebec after participating in the national Remembrance Day ceremony downtown.
During the event the names of the Orléans Legion who have passed away during the past 12 months were read aloud. The list included Brent Ashworth, Murray Brake, Vincent Brown, Wayne Carr, Gisele Devost, "Bud" Dion, Clyde Miller, Douglas Hall, Ron Elliott, Eileen Murray-Down, Julien Pelletier, Joseph Pitre, "Robbie" Robertson, Eric Smith and William Rostek."
"At the going down of the sun and in the morning we will remember them."
We will remember them.
(This story was made possible thanks to the generous support of our local business partners.)