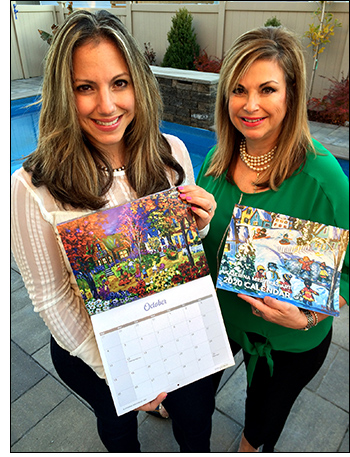 Avalon resident and cancer survivor Gina Mertikas has produced a calendar with the help of her artist/mother Katerina Mertikas. Proceeds from the sale of the calendar will be used to help fund clinical trials of experimental cancer treatments. STAFF PHOTO
When Gina Mertikas-Lavictoire was diagnosed with breast cancer in 2017, she was determined to beat it for no other reason than the fact that she had so much to live for, namely her three young children age 1, 4 and 5.
After undergoing a double mastectomy and months of chemotherapy and radiation, the 36-year-old Orléans resident made a full recovery thanks to the efforts of the medical team at the Ottawa Hospital oncology department lead by Dr Mark Clemons.
As determined as she was to beat her illness, she was equally determined to show her appreciation to her caregivers by giving back in some way. Enter her mother, Katerina Mertikas, who is a celebrated Ottawa artist known for painting colourful, expressionist scenes of childhood.
"I immediately thought of doing a calendar with my mother's art, since I know her art is very popular," says Gina.
With her mother providing the artwork, Mertikas-Lavictoire produced the calendar which sold out in 24 hours largely through the use of social media. She also organized a pair of fundraisers at the Absolute Comedy club on Preston Street and, all told, she raised over $13,500 which she donated to help fund clinical trials of cancer treatments being developed by Dr. Clemons and his team.
The calendar was so successful that Gina and her mother decided to produce another one this year. Sales have already topped 300 and they plan to keep selling them as long as there is a demand.
"When we started selling them last year, I couldn't keep up with the demand. We were so happy with the response. So far this year we've sold over 300 calendars and we're going to keep selling them as long as people want them. We'll just keep printing more," says Gina.
One of the things that have made the new calendar so popular is the fact that the illustrations are replicas of original Katerina Mertikas paintings and many people love her art. It also helps that Mertikas is a hugely popular artist with a huge following on Facebook. Her paintings can be found locally at Koyman Galleries as well as art galleries across Canada.
Katerina says it took about two seconds for her to decide to join forces with her daughter.
"To be honest I was totally honoured that my own daughter would want to do this," says Katerina. "She wanted to pay everyone back who helped her at the General and that is my daughter Gina. I would do anything for her."
Besides providing the illustrations for the calendar, Katernia also helps with the delivery and mail-outs to people who have bought the calendar from all over North America. The twosome have also held several signings together, most recently at the St. Laurent Shopping Centre.
One of the reasons Gina chose clinical trials to donate the proceeds to is the fact that clinical trials are not government funded, instead they rely entirely on donations and contributions from the general public, and her own oncologist is the driving force behind the reAct clinical trial program.
The calendars, which cost $25 each, can be ordered by emailing Gina directly at gmertikas@gmail.com or by visiting the Ottawa Hospital Foundation website at ohfoundation.ca.
(This story was made possible thanks to the generous support of our local business partners.)