Even by their own admission, Green Party candidate Michelle Petersen and NDP candidate Jacqui Wiens have little to no chance of getting elected to the House of Commons.
Both are running in Orléans against Liberal hopeful Marie-France Lalonde and Conservative candidate David Bertschi.
Petersen is a single mother with a five-year-old son, who launched a new business in April, while Wiens is a full-time student at the University of Ottawa.
Both are campaigning on shoestring budgets, while Lalonde and Bertschi have tens of thousands of dollars at their disposal.
During the General Election in 2014, former Conservative MP Royal Galipeau spent $126,975 on his campaign while his successor Andrew Leslie spent $186,398. By comparison, the NDP candidate spent $9,314 and received eight per cent of the vote and the Green Party candidate spent $3,260 and only garnered 1.8 per cent of the vote.
In fact, the most votes a Green Party candidate has ever received in Orléans is 3,833 when Paul Maillet ran in 2008.
The most successful run an NDP candidate had was in 2006, when Mark Leahy received 9,399 votes good enough for 15 per cent of all the ballots cast. Not exactly earth-shattering.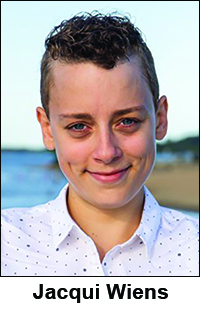 So why do they do it? Why spend hours campaigning when you have a slim chance of winning? The answer is simple. They do it because they believe in their party's respective platforms and they feel it's important to spread the word.
Petersen says she has always been a Green Party supporter. She was initially attracted to the party because of their position on the environment, but her support was bolstered when she learned more about their social platform which among other things calls for free tuition, the development of a national seniors' strategy and a national mental health strategy, and the establishment of a national living wage.
"I'm a single mom with a five-year-old son and I am someone who has always been deeply concerned with the environment," explains Petersen, who has spent 15 years working in the community and social services sector.
"I initially thought about getting politically involved when I got older, but the older I get the greater the sense of urgency I feel. I couldn't wait four more years, the issue of climate change is too important."
Having to split her time between running her fledgling business and raising her five-year-old son, Petersen can't spend as much time going door-to-door as the Liberal and Conservative candidates who are running full-time campaigns. Instead she relies on a dedicated team of close to 30 volunteers to help get the word out.
"It's funny, but most of my volunteers are seniors. People think our core support are millennials, but we are getting a lot of support from seniors who are worried about the type of future their grandchildren will have," says Petersen.
To find out more about the Green Party candidate and their platform you can visit www.greenparty.ca/en/riding/2013-35076. For more information about Jacqui Wiens visit https://jacquiwiens.ndp.ca.
(This story was made possible thanks to the generous support of our local business partners.)