Hundreds of area residents descended on the Shenkman Arts Centre on Saturday to take part in the annual Fête Frissons Winterlude in Orléans event.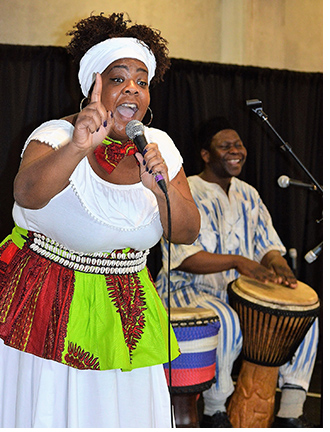 Afro-Caribbean singer Suzan Lavertu performs with Eric Sarah at this year's Féte Frissons Winterlude in Orléans event at the Shenkman Arts Centre on Feb. 2. Fred Sherwin/Photo
As a snowstorm blanketed Orléans in the fluffy white stuff, participants enjoyed fresh maple syrup taffy while doing arts and crafts, taking part in their own puppet show, face-painting, live music and lunch provided by Meatings BBQ.
Even more popular was a mountain of fresh snow that had been piled up beside the arts centre by maintenance crews over the past two weeks. Kids of all ages took turns climbing the snow pile and sliding down its sides.
The Fête Frissons event is held in partnership with Winterlude and the Heart of Orléans BIA. Shenkman Arts Centre artistic producer and manager Caroline Obeid says the partnership with Winterlude goes back six years to 2013.
"They came to us a few years ago and asked what else can we do to get people in their own neighbourhoods celebrating Winterlude and so we thought this is a great opportunity to get people inside, outside and acquainted with the building and doing some arts activities," said Obied.
Martin and Brigitte Tessier brought their daughter Brielle, 4, to the festival last year. They enjoyed the experience so much they returned again this year.
"We love it. There's lots of fun things to do for all and there's lots of activities for kids especially our daughter's age," said Brigitte who is a self-confessed "winter" person. "It's nice to have an activity like this after the holidays with Winterlude and everything."
Among the many participants at this year's Féte Frissons was Orléans MPP Marie-France Lalonde who helped the folks from Meatings BBQ serve up Mac & Cheese to the hungry masses who had built up an appetite taking part in all the activities one of which was a massive mural of Ottawa's many tourist attractions which kids were invited to help colour. The project was the brainchild of community engagement artist Brenda Dunn whose previous endeavours include The Living Colour Book Project and Art in Jest.
Other organizations that took part include the Ottawa School of Theatre, the Ottawa School of Art, LynneART Face and Body Art and Canada Learning Code which provided an interactive display where kids could have fun learning about coding.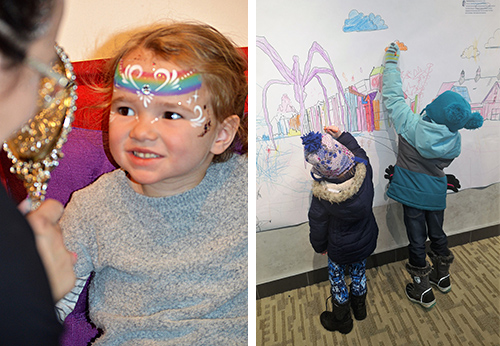 (Left) Ella Salt, 4, likes what she sees after getting her face painted at this year's Fête Frissons. (Right) Two kids colour part of the large colouring mural in the lower lobby of the Shekman Arts Centre. Fred Sherwin/Photo
(This story was made possible thanks to the generous support of our local business partners.)