Sir Wil's 'Hunchback' a true masterclass in high school theatre
March 18, 2020
STAR STAFF – Lights open on The Notre Dame Cathedral, 1482, where a young man who has spent his whole life hidden away finally decides to defy his master and try his luck in the real world.
Sir Wilfrid Laurier Secondary School's recent production of The Hunchback of Notre Dame, directed by the school's drama teacher, Sonya Schrum, was power-ful and thought provoking.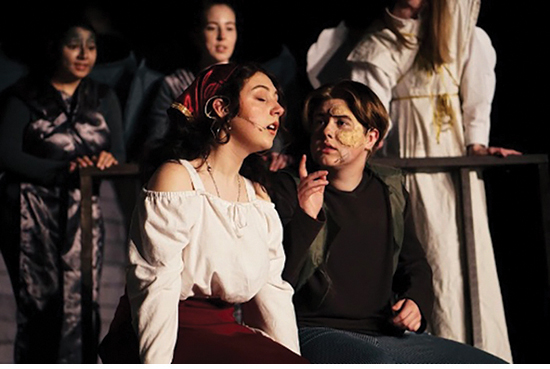 The Sir Wilfrid Laurier Secondary School production of "The Hunchback of Notre Dame" featured Philip Lukic as Quasimodo and Zoey Mowberry as Esmeralda. PHOTO SUPPLIED
With several beautiful musical numbers and a talented and dedicated cast of students, this show brought the medieval back alleys of Paris to vibrant and extraordinary life.
The Hunchback of Notre Dame is a musical based on Victor Hugo's classic tragic novel of the same name. It follows Quasimodo, a deformed young man who has spent his life in isolation under the care of Archdeacon Dom Claude Frollo and was only ever taught that his deformity would lead the rest of the world to hate him. All that changes when he meets the charming and fiery Esmeralda, a gypsy dancer who instantly sees through his appearance to the kind soul underneath.
This Sir Wil production was packed full of strong leads. Emmett Duby in his role as Quasimodo simply shone in taking on the challenging physicality and speech impediment of the titular hunchback. He also breathed life into the character with his emotive acting and impressive vocal ability in such songs as "Made of Stone" and "Heaven's Light".
Esmeralda was played by Zoey Row-berry, who delivered a dazzling perfor-mance in portraying the painfully human character by combining her nuanced act-ing skills with a strong vocal in songs like "Someday" and "Top of the World".
Philip Lukic played the conflicted villain of Frollo with dynamic intrigue. Bringing a violently realistic side to the character through his spectacular voice and acting, especially in regards to his solo number Hellfire.
Jameel Ferzli was very strong in the role of the suave Captain Phoebus De Martin, with his beautiful voice and empathetic acting in songs like "Rest and Recreation" and "In a Place of Miracles". He and Rowberry also exhibited some great chemistry in their romantic scenes.
Additionally, Jessica Goyette who played Clopin, the narrator and leader of the gypsies gave a brilliant performance and stole the show in songs like "The Court of Miracles" and "Topsy Turvy".
Every part of this production was made all the more immersive by the astounding effort that went into it. Each individual aspect, from the costumes, to the vast and complicated sets, to the outstanding student pit band directed by Megan Schwartz was used divisively to give the audience a unique and wonderful experience.
The ensemble cast and chorus was equally impressive in group scenes like "Tavern Song" and "Finale Ultimo", both in terms of their vocals and their dancing choreographed by Emilie Lepage-Bour-bonnais and her team.
Sir Wilfrid Laurier Secondary School's The Hunchback of Notre Dame was emotional, entertaining, and impressive, with a group of amazing students and staff who worked together to make the show a true delight for the audience and everyone involved..