Final GMC recital serves as rehearsal for Kiwanis Music Festival
By Fred Sherwin
March 29, 2019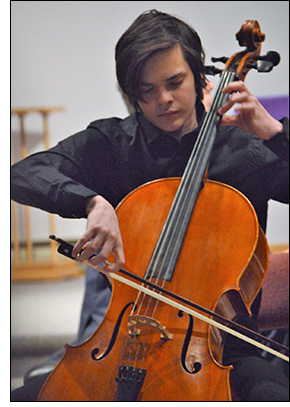 Nicolas Cooper performs during the Gloucester Music Club recital at Orléans United Church on Friday night. Fred Sherwin/Photo
Every spring, hundreds of young classical musicians take part in the Kiwanis Music Festival to measure their talent against their peers while competing for pride and prizes.
Held at more than a dozen venues across the city, the event is the highlight of the year for many of the young musicians.
This weekend, the Gloucester Music Teachers Association is holding its final music recital of the season to give their students a chance to play in front of a live audience
Held over two separate evenings at Orléans United Church, the recital doubles as a rehearsal for those young musicians who will be taking part in the Music Festival which gets underway in just over a week.
Over 30 youngsters age 7 to 17 are taking part in the Gloucester Music Club recitals. Friday night's program included 16 pianists and one cellist..
One of the highlights of the evening was turned in by Enah Cheng. The 15-year-old Colonel By student showcased her exquisite musicality and superb dexterity during her playing of Beethoven's Bagatelle Op. 33.
Other performances of note included Bhumitra Kesanakurti's recital of Fluttering Leaves by Stephen Heller and Stella Chen's rendition of Johann Philipp Kirnberger's Les Carillons. Rachel Chu's performance of Etude in A-flat Op. 30 No. 19 by the 19th century Italian composer, Giuseppe Concone, was also extremely strong.
But two performances stood out from the pack. The first was delivered by the lone non-pianist on the program, Nicolas Cooper. The 15-year-old cellist was absolutely mesmerizing during his recital of Édouard Lalo's Concerto in D-minor. The lenghty piece perfectly highlighted the Navan resident's immense talent and depth.
Cooper is hoping the ambitious piece will help propel him to a top mark at the Kiwanis Music Festival and a berth in the provincial competition.
"I've finished first and second a few times and I've won a couple of trophies, but I've never made it to provincials. Hopefully that will change this year," says Cooper.
The task of bringing Friday's recital to a close was given to Michael Li. Another extremely talented musician, the 13-year-old St. Matthew High School student was on point throughout his performance of Chopin's Waltz in E Minor.
Li and Cooper are both shining examples of young musicians who can elevate their playing from merely reciting a piece to performing it. It's a rare quality, indeed, which makes it that much more memorable if you are lucky enough to witness it for yourself.
The second session of the Gloucester Music Club recitals will take place this evening at 7 p.m. at Orléans United Church, 1111 Orléans Blvd.