Chartwell Retirement Residences has a well-earned reputation as a responsible, prudent and caring management company rooted in a deep respect for their clients and an unwavering commitment to client satisfaction.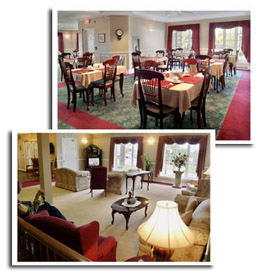 When you walk into the Chartwell Belcourt Residence located just off St. Joseph Blvd. in the heart of Orléans, you will immediately be struck by the extraordinary architecture and captivated by its elaborate interior decor, top-notch services, high-quality cuisine, inviting ambiance and dynamic environment.
At the Chartwell Belcourt Retirement Residence, residents experience the staff's undivided attention with the comfort and feeling of being at home. Teamwork, respect, innovation and communication make up their core values.'
But a residence is more than a place to live — it's a way of life. At the Chartwell Belcourt Retirement Residence, the lifestyle is very distinctive. The convenient, modern building features impeccable suites and apartments, tastefully decorated along with fully equipped common rooms and comprehensive recreational facilities.
Come experience an active lifestyle, take part in your favourite activities, enjoy the great outdoors and socialize with your peers — all in a beautiful setting only a short distance away from places of worship, shopping, a pharmacy and rapid transit.
The Chartwell Belcourt Retirement Residence offers a full range of services and amenities including regular medical visits, nursing care, medication management, pharmacy services, assistance services, housekeeping, linen service, an attractive air-conditioned dining hall, a library and a billiard room.
Chartwell's network of outstanding seniors residences are committed to providing accommodation and lifestyle services by offering a range of adapted, flexible and customized services based on the needs of their residents while taking into account provincial and regional particularities.
In short, they strive to provide a comfortable, stimulating and secure setting to all their residents.
To find out more about the fantastic living experience the Chartwell Belcourt Retirement Residence has to offer contact Veronique Landry at 613-688-3385. For more information visit http://chartwell.com/belcourt-orleans.