Stripped down Shrek production a musical theatre master class
By Fred Sherwin
January 19, 2019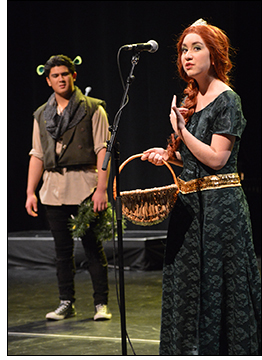 The St. Peter High School production of Shrek the Musical stars Sydney Maloney as Fiona and Jason Kokkovas in the lead role as Shrek. Fred Sherwin/Photos
One of the local theatre highlights of the year has always been the St. Peter High School musical theatre production, which in the past have included such memorable performances as
Shrek the Musical
in 2014, Tarzan the Musical in 2015 and last year's
Sister Act
.
This year, St. Peter`s musical theatre instructor Bernard Leger decided to stage a reprisal of Shrek the Musical, but not just any reprisal. Instead of a standard set up with an elevated stage, a live orchestra kept out of sight in an orchestra pit and elaborate props amd back drops, Leger and company decided to produced a striped down version that's much more dependent on the performances of the actual players and especially the vocals.
Instead of an elevated stage and an orchestra pit, the St. Peter production takes place in the intimate confines of the Richcraft Theatre at the Shenkman Arts Centre in what they refer to as the flat floor set up. In other words the production is on the same level as the first 10 rows of seats with the orchestra in behind. Instead of elaborate backdrops, an easel is situated at either side of the stage on which drawings of different still lifes are placed depending on the scene. One of the drawings is of a forest, another is a castle tower and so on.
Another change from past productions is the sound. Instead of outfitting all of the main players with wireless headsets, there is one lone microphone stand at centre stage and two microphone stands on risers at each side of the stage in the background.
The set uo is made use of during the opening when Shrek, played by Jason Kokkovas takes centre stage while Shrek's parents are at the microphones on the risers.
Shrek is a wonderful story to begin with. but brought to life by a wonderfully talented cast who can sing their butts off, accompanied by an equally talented orchestra, it is pure magic.
The original Shrek the Musical was adapted from the book for the Broadway stage by playwright and lyricist David Lindsay-Abaire in collaboration with composer Jeanine Tesori.
For the most part the St. Peter production stays true to the script, but the cast has been allowed to add a little of their own personalities to mix with the odd improvisation.
As for the performances themselves, let's just say that Leger has once again been blessed with some ridiculously talented students, starting with Sydney Maloney who plays Fiona.
The Grade 12 senior was a one of the standouts in last year's production of Sister Act. Here return to the stage in this year's production of Shrek is nothing less than a revelation. Simply put, she's brilliant. If Disney is looking for a princesss in one of their theme parks, they should look no further Miss Maloiney. She was made for the musical theatre stag. I haven't seen anyone that talented since Steffi DiDomenicantonio, better known as Steffi D from Canadian Idol fame, who is enjoying a successful television and stage career.
Kudos as well to Kokkovas, who also performed in Sister Act, as Lt. Souther. The Grade 11 student has an incredibly powerful voice which is ideally suited to the intimate staging of this year's production.
And then there's Donkey, who is played by Jamie Elliot, who is extremely talented in her own right and perfectly cast as Shrek's traveling buddy. It should be noted that Miss Elliot is a she and not a he. Yes, I am aware that Donkey is a male character, and Elliot plays him as such which is a credit to her tremendous talent. She is also very funny and plays off Kokkovas' Shrek to near perfection. She also has an excellent voice.
As for the remainder of the cast. they are a number of vocal performances that stood out including Kinsley Jura, who plays the dragon, Manoha Jean Baptiste as Pinocchio, Calista Guy as Gingy and Kayle Bernier as the wicked witch.
Some of my favourite moments of the production were the ensemble performances which include "Story of My Life". "Freak Flag" and The Monkees hit, "I'm a Beliver". which brings the production to a close.
I'm still trying to figure out who performed as Lord Farquaad, who was represented on stage by a diminutive puppet. At times his lines were delivered by Josh Sharma and at other times they were piped in through the PA while Sharma moved the puppets mouth. Despite being slightly confusing, it did not take away from the overall experience and Sharma was on point when he was on stage.
The play continues with two performances today (Monday, Jan. 14) at 2 p.m. and 7 p.m. Tickets are available at the door.