The Béatrice-Desloges Bulldogs senior girls basketball team successfully defended the National Capital AA championship on Tuesday with a 36-29 win over the Samuel Genest Lazers.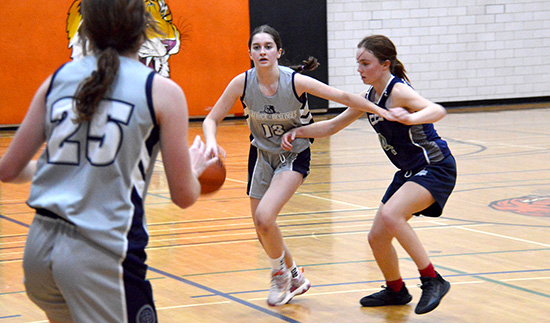 The final was a tight defensive affair until the fourth quarter when the Bulldogs superior free throw shooting allowed them to pull ahead of the Lazers and ultimately win the game.
Samuel Genest proved to be their own worst enemies in the first quarter, making just three of 17 shots from the floor, or 18 per cent.
Béatrice-Desloges wasn't much better, making just one basket on 11 attempts. After sinking their first shot of the game for a three-point basket they missed their next 10 in a row.
The difference in the first quarter was the Bulldogs' free throw shooting. They went to the free throw line six times and made four shots.
The score at the end of the first quarter was 7-6 in favour of the Bulldogs.
The shooting in the second quarter was much better with Samuel Genest making five of 12 shots.
The Bulldogs were good on three of 10 shots from the floor and they made the two free throws they had to keep the score close. By the time the first half ended their one point lead was turned into a four-point deficit.
The Lazers shooting woes returned in the third quarter where they missed 17 shots in a row, including two free throws, before finally making a basket. The Bulldogs, mean-while, got a basket from Alexia Schryburt and a free throw basket from Elodie Bard to narrow deficit to a single point.
After Samuel Genest first basket of the second half allowed them to regain a three pint advantage, Schyburt made a pair of free throws to cut it back to a single point and Bard's basket ear the end of the third quarter would give the Bulldogs their first lead since the halftime break.
In the fourth and final quarter both teams managed to step up their game, scoring 22 points between them, but it was the Bulldogs who made the most of their opportunities, sinking 50 per cent of their shots from the floor for 14 points. The Lazers, meanwhile, shot just 33 per cent for eight points.
When the final buzzer sounded the Bulldogs were on top 36-29.
Schryburt led the way for the Bulldogs with 13 points, two rebounds and three steals. Five of her 13 points came from the free throw line where she went 5-for-6.
Bard ended the game with eight points and her sister Cléa Bard scored nine points, including a three-point basket in the fourth quarter.
The Bulldogs must now prepare for the OFSAA 'AA' tournament which starts on Nov. 23 in Guelph. In last year's tournament, they won their first three games before losing in the playoffs. This year they hope to go all the way to the gold medal game.