Every Tuesday morning between 10 and 11 a.m. a group of men between the ages of 65 and 85 lace up the skates and play hockey at the Ray Friel Centre.
Most of the men have been playing hockey since they were young boys. Fred Théberge, 85, and Germain Souligny, 83, are the oldest among them.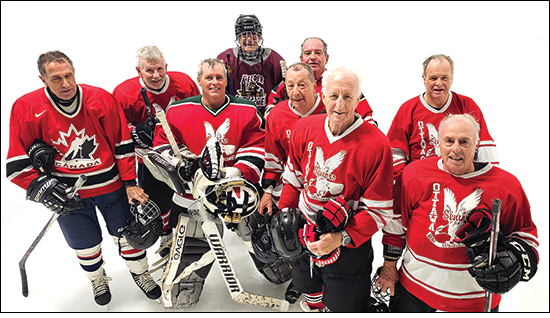 Germain Souligny, 83, third from the right, plays hockey three times a week including every Tuesday morning at the Ray Friel Centre with other senior men. FRED SHERWIN PHOTOS
The pair have been playing men's hockey together since the 70s. They continue to enjoy the game for the comraderie and because they still can.
"If you stop moving, you're dead," dead-pans Theberge. "You gotta keep moving. Doesn't matter how fast, as long as you keep moving, you're still alive."
Souligny, who owns the Heritage Funeral Centre, plays three times a week – Tuesdays, Thursdays and Fridays.
"It's good exercise and it keeps me going," says Souligny who has played hockey every winter except during the COVID pandemic when the public rinks were forced to close for a year.
"It wasn't easier getting back," says Souligny. "It took a little while, but when you wake up in the morning, it gives you something that's fun to do."
Each team in senior men's hockey consists of nine or 10 players, or two lines, and each game is an hour long. Shifts are limited to a couple of minutes, but it still means being on the ice for about 30 minutes.
There are never any penalties either. Any infractions are entirely accidental. Besides, there are no referees to the call the penalties even if they happen. Besides, referees would only slow down the game and the games are already slow enough.
"Fred was joking with me one day that we used to skate a lot faster in the 70s," says Souligny, while admitting they both did a lot of things a lot faster in the 70s.
While there is no official scoreboard during the games, most of the guys keep track of the score in their head, and most keep track of their own scoring tallies for the year.
"At the end of the year, if you ask us how many games did we win, nobody would know," says Souligny who figures he has scored "three or four" goals so far this year.
For all of the men who play seniors hockey, it is a true love affair of a game they grew up playing and have never outgrown.
Souligny and Theberge says they plan to continue playing hockey until their bodies no longer let them. How long that will be, is anybody's guess, but until then, they plan to meet every Tuesday morning to lace up the blades and enjoy the sensation of gliding along the ice which forever takes them back in time.