The Béatrice-Desloges Bulldogs varsity girls touch football team very nearly pulled off the upset of the year last week, when they faced the defending champion West Carleton Wolverines in the Tier 1 city championship.
The Wolverines lived up to their billing as the favourties in the final game by driving the ball 65 yards on four straight catches to score the opening touchdown of the game. A successful one point conversion attempt would make the score 7-0 in favour of West Carleton.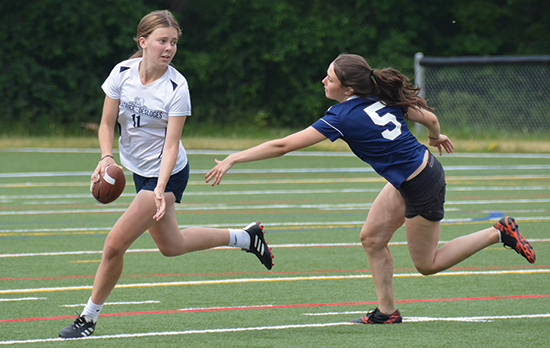 Béatrice-Desloges quarterback Emma Levesque manages to elude a West Carleton rusher during the Tier 1 high school touch football championship on June 12. FRED SHERWIN PHOTO
Unfazed by the Wolverine's opening scor-ing drive, the Bulldogs responded with a 75-yard touchdown run by Marika Schryburt on the very next play to tie the game at 7-7.
A successful defensive stand by Béatrice-Desloges lead to a 67-yard touchdown pass from quarterback Emma Levesque to Mia Cléroux and by the end of the first quarter the underdog Bulldogs were leading the defending champions 13-7.
Unfortunately the second quarter was all Wolverines as their quick strike, big play offence managed to put 13 unanswered points on the board including a touchdown on the final play of the first half which ultimately proved to be the difference in the game.
After the Bulldogs failed to move the ball on the opening drive of the second half, the Wolverines added yet another touchdown to take a seemingly unsurmountable 27-13 lead into the fourth quarter.
With time now a factor, the Bulldogs switched to a hurry up offence which took the Wolverines off guard and ultimately lead to a 7-yard touchdown pass from Levesque to Cléroux and narrowed the deficit to just eight points.
When the Bulldogs failed to pick up a first down on their next series the final result was all but a foregone conclusion. It appeared even more so when the referee indicated that there were only five plays left in the game and the Wolverines had possession inside the Bulldogs' end. But everything changed when Annie Pierre Bertin intercepted an errant Wolverines pass, giving the Bulldogs hope and one final opportunity to potentially tie the game. The only problem was that they needed to drive the ball more than 80 yards and they only had four plays to do so.
They managed to make up half the distance, but that would be as far as they would get as they ultimately ran out of plays and time.
Still, they showed a great deal of tenacity and Bulldog spirit in never giving up and battling the Wolverines right down to the final play of the game..