East end natives and Gloucester Concordes alumni Ivanie Blondin and Isabelle Weidemann wrapped up the 2022-2023 speed skating season with a gold medal in the Team Pursuit event at the World Long Track Speed Skating Championships in Heerenveen, Netherlands.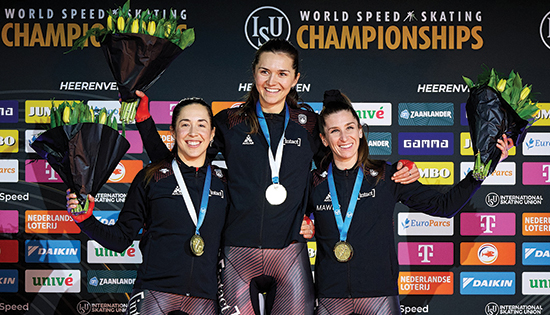 (L to r) Valérie Maltais, Isabelle Weidemann and Ivanie Blondin receive their gold medals for placing in first in the Team Pursuit event at the World Speed Skating Championships. SSC PHOTO
The win was a somewhat controversial one as the Canadian threesome of Blondin, Weidemann and Valerie Maltais actually crossed the finish line in second place. They were elevated to the gold medal position after the Dutch team of Joy Beune, Irene Schouten and Marijke Groenewoud were disqualified for having bare skin showing during their race which is not allowed as it poses a safety risk for the skaters should they fall.
It was the first time a Canadian threesome had won the Team Pursuit event at the World Championship since 2011.
Blondin, Weidemann and Maltais had already won a silver and bronze medal at two previous World Championships in 2021 and 2020. They are also the reigning Olympic champions, having won the gold medal in Beijing last year.
Blondin echoed the sentiments of her teammates when discussing their latest
success with the media in the Netherlands.
"Today's race was definitely not a bad race for us, but it was a little bit of a bittersweet win since the Dutch team was DQ'd," said Blondin, who at 32, is the elder stateswoman of Canada's speed skating team. "I think it'll be back to the drawing board for our team next season, that's for sure."
After being awarded the gold medal in Team Pursuit, Blondin won her sixth individual World Championship medal in the Mass Start event with a second place finish in Heerenveen.
In six World Championships dating back to 2015, Blondin has won two gold medals (2016 and 2020); and four silver medals (2015, 2019, 2021 and 2023). She is also the reigning Olympic silver medalist in the event and the newly-crowned World Cup champion.
"I made a mistake by thinking no one was going to attack right away and it was kind of game over from that point forward. It's too bad because I think I could have won the title if I didn't let that happen," Blondin said after the race.
Blondin started out the World Championship meet by teaming up with Carolina Hiller and Brooklyn McDougall to win gold in the Team Sprint event. Something that has only been done once before in 2019.
The win was also the perfect ending to a season in which the three skaters had finished in second place at all three World Cup events this season.
Weidemann just missed out on making the podium in her specialty, the 5000-metres. She ended up fourth to go with her sixth place finish in the 3,000.