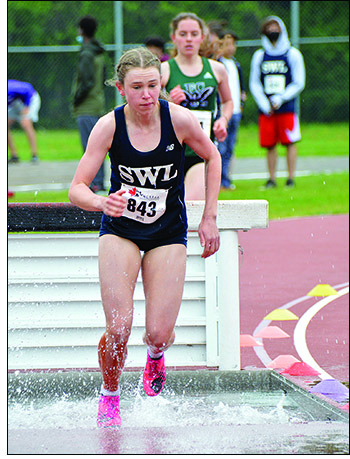 Elizabeth Vroom is this year's Female High School Athlete of the Year. The Sir Wilfrid Laurier Secondary School student won the OFSAA track and field championship in the Open Women's Steeplechase.
This year's male and female high school Athletes of the Year are a track athlete from Sir Wilfrid Laurier Secondary School and a football player from St. Matthew High School.
Prior to the start of the 2022 high school track season, Elizabeth "Libby" Vroom, had not run in a single steeplechase race in her life, but over the course of four weeks in May and June, she broke four straight meet records on her way to becoming the OFSAA gold medalist. She then went on to become the national youth champion in the event, breaking a long-standing record in the process.
Vroom's season started with a win at the Eastern Conference Track and Field Championship in late May. A week later, she would set a meet record at the National Capital secondary school championships and then a week after that, she would do the same at the OFSAA East Regional championships. Each time she would lower her personal best time by almost 10 seconds, but she would save her best for the provincial championships.
Running against the top high school steeple chasers in the province, Vroom lowered her personal best time by another 12 seconds and smashing both the provincial high school record and the Canadian interscholastic record in the process.
She would go on to win the national U20 title in the 3000-metre steeplechase at the Canadian Track and Field Championships in July before starting her first year at Queen's University where she is a member of the Golden Gaels X-country team.
The winner of the male high school athlete of the year is Hugo Djeumeni who put together a pair of back-to-back performances to help lead the St. Matthew Tigers varsity football team to the city champion-ship and the OFSAA National Capital Bowl.
Djeumeni ran for 109 yards on 15 carries in the first half alone against the St. Joseph Jaguars in the NCSSAA title game, which St. Matt's won 20-23, and then followed that up by running for 280 yards and a touchdown on 30 carries in the Tigers' 24-15 win over the Northern Red Knights in the National Capital Bowl.