When Kevin Frost first took up the sport of speed-skating in his late 30s, he did it as a way to take back his life after losing his sight and hearing to Usher's Syndrome. At the time, he had no idea of the inspiration figure he would become to hundreds of physically challenged youth and adults, as well as many able-bodied people.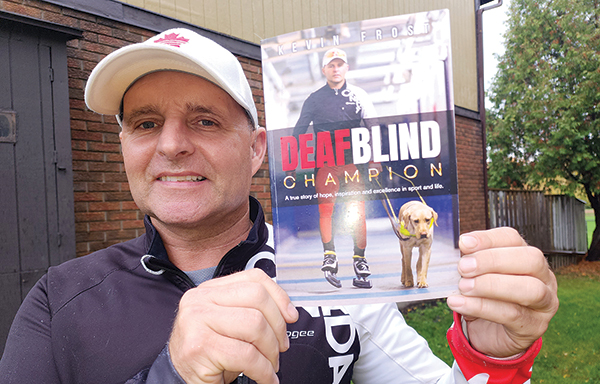 Orléans blind-deaf athlete Kevin Frost recently published his first book entitled Deaf Blind Champion. FRED SHERWIN PHOTO
THe eventually used his success – as a speedskater, cyclist, rower, runner and now golfer – to motivate others to be the best they can be, or in his words, "a champion".
Frost has taken all his experiences – both his successes and failures – and put them in a new book entitled Deaf Blind Champion: A true story of hope, inspiration and excel-lence in sport and life.
In his own words, the book is about "reaffirming that anyone and everyone needs to know that anything is possible and no matter how tough things get, there is always going to be a new tomorrow."
"I thought I lost everything in my life when I went deaf and blind," Frost explains. "But in the depths of the challenges I faced, I found small salvations. It took my disabilities to help me realize what an incredible life I could lead."
After slowly losing his sight in his early teens, Frost was eventually diagnosed with Usher's Syndrome in March 2002 at the age of 35.
"Friend's noticed that I was walking into chairs, walls and my kids' toys and knocking things over, so I agreed to go to a specialist and that's when I was diagnosed with Usher's" says Frost.
Usher's Syndrome robs you of your hearing at an early age and eventually your vision. Kevin has less than five per cent tunnel vision and 10 per cent of his hearing.
Over the years he has had two guide dogs to help him along the way – Nemo, who passed away in 2015 – and Lewis, who recently had to be retired. Frost is currently on a waiting list for a new guide dog.
Besides the help of his guide dogs and his children Madison, Montana and Mitchell, Frost has been blessed by a number of individuals including the various coaches he's had over the years to his fellow Lions Club members, (Frost is a member of the Orléans Lions Club), to the Canadian Institute for the Blind and dozens of others who have become close friends over the years.
"I have become who I am because of some amazing people who have become part of my journey," says Frost.
The book is part autobiography, part self-help and 100 per cent inspirational.
"When you have a purpose behind your actions, and that purpose is positive and compelling, you will absolutely achieve your goals and become a champion, that is the main thing I hope to get across to people who take the time to read this book," says Frost.
Deaf Blind Champion is available through Amazon. Additionally, you can order a copy by visiting Frost's website at deafblindspeedskater.com. Frost plans to use the proceeds from the sale of the first 250 copies to produce an audio book for people who are partially or totally blind.