The Gloucester-Cumberland Ringette Assciation will be sending two teams to the Canadian Ringette Championships in Calgary next month after both their U16 and U19 AA teams won their respective divisions at the Ontario Ringette Championships in Waterloo earlier this month.
After spotting their opponents a 3-0 lead in the first five minutes of the game, the U16 team stormed back to score four answered goals against West Ottawa in their final.
Morgan Forrest scored two goals for the Devils, Maya Howard added another and Genevieve Robichaud scored the eventual game winner.
It was the greatest comeback veteran Devils coach David Mainwood had wit-nessed in a championship game in his long career. "They perservered, fought through the deficit and came back all the way," Mainwood said about his young players
In the U19 final, the Devils scored late in the fourth period against Waterloo to tie the game 5-5 and send the contest into sudden death overtime.
In the extra session, the Devils managed to kill off not one but two penalties before Julia Wilson finally scored the game win-ning goal from her knees.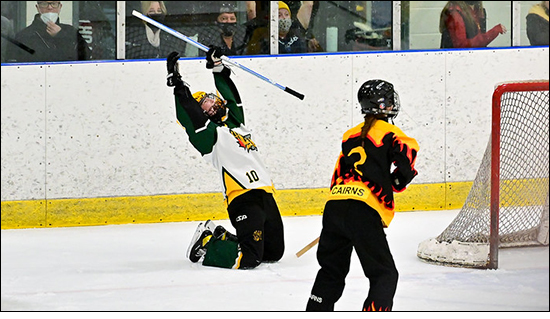 This is the first time a team from the Gloucester-Cumberland Ringette Associa-tion has won a AA title at the provincial championships the U14 team accomplished the feat in 2018. Prior to that they had exper-ienced a 12-year drought.
There was a time during the 1990s and into the 2000s when teams affiliated with the Gloucester-Cumberland Ringette Association were winning provincial championships on a regular basis, but by 2004 the rest of the province, and especially other teams in Ottawa, had caught up to them. So to win two titles in the same year is a heck of a feat..