The Orléans Raftsmen has won the Québec Midget Football League champ-ionship for the third straight year.
The Raftsmen downed National Capital rivals the Gatineau Gaulois 31-17 in the QMFL final in Montreal on Nov. 5.
After spotting the Gaulois a 7-0 lead on the opening play of the game, the Raftsmen responded with a pair of touchdowns from fullback Evan Cordingley and wide receiver Tristan Deschamps.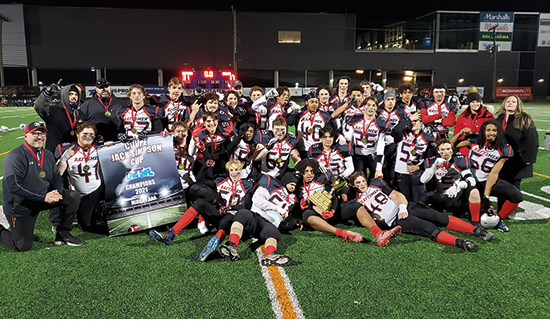 Cordingley scored with three seconds left in the first quarter after the Gaulois fumbled a punt on their one-yard line, and Lefebrve scored on a pass from Deion Blackwood with 1:35 left in the first half. Kicker Devon Lefebrve would add a field goal with six seconds left to give the Raftsmen a 17-7 lead heading into the break.
The Raftsmen would add to their lead in the third quarter on a pass from Blackwood to Noah Cardinal to go up 24-7.
After the Raftsmen gave up a safety in the fourth quarter, the Gaulois scored on the next possession to give their fans something to cheer about.
The enthusiasm didn't last long, however, as the Raftsmen were able to burn some valuable time off the clock late in the fourth quarter leading up to Cardinal's second TD of the game to make the final score 31-17 and provide a little icing on their championship cake.
Evan Cordingley was named the Rafts-men's Offensive Player of the Game for his efforts, while Aldège "Bear" Bellefeuille was named the team's Defensive Player of the Game.