It's been a little over a year since the Navan Grads brought in new head coach and general manager Marty Abrhams to help turn around a team that had just finished in last place in the Central Canada Hockey League with just nine wins in 62 games.
In his first full year behind the bench, Abrams lead the Grads to a 25-28-6-3 record, good enough for eighth place and a return to the playoffs where they lost in the first round to the Carleton Place Canadians.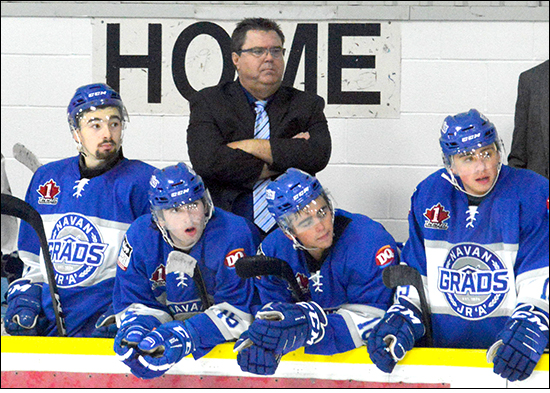 Marty Abrams is in his second year as head coach and general manager of the Navan Grads Junior A hockey club. FRED SHERWIN PHOTO
Despite their early exit in the post season, there was a substantial improvement in the Grads' overall performance to hope for better things to come in 2019-2020 and so far after just 10 games the team sits in a tie for third place in the Yzerman Division with the Hawkesbury Hawks. Both teams have identical 5-5 records.
Abrams says he is relatively pleased with the direction the team is heading in this early in the season, but he cautions there's a lot they have to work on.
"Overall, we're pleased with some of the things in our game, but we know there's a lot of work to be had especially in the area of discipline and cutting down on our penalties and maybe working little more on our special teams. So those two particular areas are the things we need to work on over the next 10 games," Abrams told the Star after a recent loss to the Kanata Stallions in which they gave up a pair of power play goals.
Jackson Arcan and Curtis Fabro are leading the team on the score sheet with 13 and 11 points respectively. Arcan has scored six goals and added seven assisits in 10 games, while Fabbro has four goals and 11 assists.
In goal, veteran Alex Wisco has started all 10 games, allowing 34 goals for a 3.40 goals against average.
The team's next home game is on Sunday, Oct. 6 against the first place Canadians.
(This story was made possible thanks to the generous support of our local business partners.)