The Ottawa TFC U17 Academy girls team is heading to the Ontario Cup final after beating the North Mississauga Black Panthers 1-0 in the semi-finals on Aug. 25 in Guelph.
The game was knotted at 0-0 until the late going when unlikely hero Chanel Chaput scored in the 87th minute to deliver the victory and avoid having to decide the game in penalty kicks.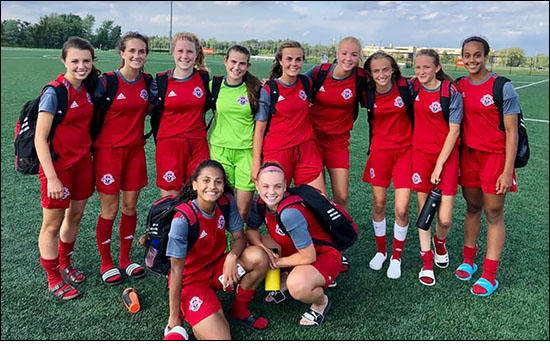 Chaput had her wisdom teeth removed earlier in the week and wasn't supposed to play in the game. It wasn't until the 11th hour that she decided to dress for the game as a potential substitute.
After playing in the final 10 minutes of the opening half she asked head coach Pavel Cancura to keep her on the sidelines for the second half. It wasn't until the game was entering the final minutes and was looking to be heading to penalty kicks that Cancura put her back on the field.
"My feeling was that we could really use her if it went to penalty kicks because she is excellent in that situation, but instead she scored the winning goal," said Cancura.
Chaput was set up by a great lead pass from Kylie Laframboise. Despite being on a tight angle to the goal mouth, Chaput still managed to curl the ball into the net for the game winner.
The team will face Vaughan Azzuri this Sunday in Vaughan where they will try to be the third team affiliated with the Cumberland United Soccer Club to win an Ontario Cup. The Cumberland Cobras U13 girls team won in 2017 and the U15 girls side won the prestigious championship in last year.
This is the first year that the Cumberland Cobras are playing under the Ottawa TFC banner. The U17 team is made up of girls from three different age groups, those born in 2002, 2003 and 2004.
Cancura, who also happens to be the Ottawa TFC general manager, says the squad is one of the most talented and well balanced teams he's coached.
"All the girls are incredibly talented, so we are able to adjust to any situation," says Cancura.
(This story was made possible thanks to the generous support of our local business partners.)