Orléans blind/death athlete Kevin Frost is enjoying another successful outdoor season with top 10 results in both tandem biking and golf over the past four weeks.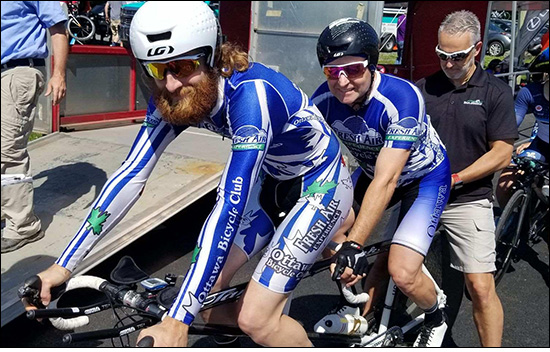 Kevin Frost (rear) gets ready to set out on the road course with his pilot Phil Bergeron at the Canadian Para Tandem Cycling Championships in the Beauce, Quebec last month. PHOTO SUPPLIED
The season started with a fourth place finish in an 80km race in Montréal. The event served as a warm-up for the Canadian Para Tandem Championships in Beauce, Quebec on June 25-28.
Competing with his new pilot, Phil Bergeron, Frost finished fifth on the track and fourth in the road race.
"It's been a pretty productive year, all things considered," says Frost. "Whenever you have a new pilot it takes a year or two to get to the top of your game."
The 52-year-old didn't skip a beat in trading in his tandem bike for a set of golf clubs. Despite having a few issues with his putter, Frost still managed to finish in a tie for 14th place competing against some of the best blind golfers in North America at the Canadian Open Blind Golf Championships in Cranbrook, B.C. on July 12-13.
His low net score of 149 was good enough to place him second in his category which is golfers with five degrees of sight or less. the other categories are total blindness or five degrees of sight or more..
"Overall I'm happy with my results so far," says Frost. "I'm gaining momentum with each tournament. I just need to tweak my putting to lower my scores on the green."
Next up for the multi-sport athlete is the Ontario Blind Golf Championships which are being held next month in Hamilton.
(This story was made possible thanks to the generous support of our local business partners.)