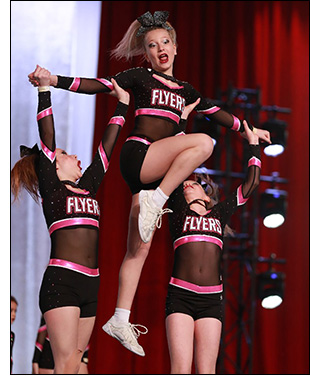 Give me a G. G! Give me an O. O! Give mean an L. L! Give me a D. D? What does that spell? GOLD! What does that spell? GOLD! That's the cheer that could be heard in Niagara Falls earlier this month after the Flyers All-Starz Starlight cheer team won the gold medal in the Youth Level 2 division at the Canadian Cheer Championships.
The group of 19 five- to 11-year-olds were fourth after the first day of competition and then blew the judges away with their second routine on Day 2 to finish the competition in first place.
The national championships brought together 360 teams from across Canada and the United States including 36 members of the Flyers All-Starz. Each routine is judged on five elements – stunts or stacking, jumping, tumbling, and overall performance.
Besides the first place result, the Flyers also came home with a fourth place result, two sixth place results and a seventh place finish. Not bad for a little gym in Orléans.
The Flyers All-Starz Cheer Gym is owned by the Flyers All-Starz in Montreal which bought the facility on Vimont Court from Ottawa Cheer Elite in 2016. The gym has both a competitive and recreational program. They even have a cheer program for the moms.
The students are as young as three and go right up to adults. The kids who come to the gym and enroll in the program come from a variety of different disciplines. Some have a gymnastics or a dance background, some come from figure skating or synchronized swimming, and some have no previous athletic experience at all.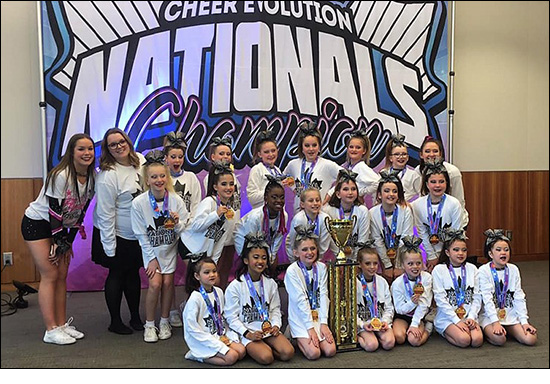 Flyers All-Starz manager Kelly Nightingale says most of the kids who try it out stick around for the camaraderie and the sheer fun of cheering.
"The best part about cheer is that there's always a place for you. If you're not terribly proficient at tumbling you can fit in somewhere else. There's always a place for you on the team and everyone supports each other," says Nightingale.
Team cheering is a combination of dance, gymnastics and fitness which requires a great deal of cardio. Cheering took a giant leap into the mainstream in 2016 when the International Olympic Committee named it a provisional sport, which means it can apply to become an official Olympic event in the 2028 Summer Olympics in Los Angeles.
They already have a World Championship with teams from more than 60 different countries taking part in last year's event. That's right, the International Cheerleading Union, or ICU, is made up of more than member countries with 4.5 million registered athletes.
To find out more about cheering, drop by the Flyers All-Starz Cheer Gym at 1671 Vimont Court and check it out for yourself.
(This story was made possible thanks to the generous support of our local business partners.)