Michael O'Connor is somewhat of a rarity in professional sports – he is a Canadian quarterback who has a legitimate shot at one day playing in the Canadian Football League at his favourite position.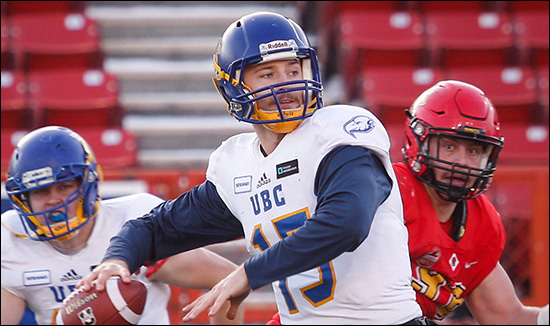 The Orléans native recently took part in the CFL combine where he earned rave reviews for his immense talent, his poise and his football IQ.
The combine is held every year in the lead up to the CFL draft to give teams a chance to meet potential prospects face-to-face and ask them questions about everything from Xs and Os to possible issues in their personal lives.
O'Connor was a busy man at the combine, sitting down with six different teams. That's high for any prospect and is usually indicative of the type of interest shown in someone who ends going pretty high in the draft.
For his part, O'Connor made the most of the opportunity to express his love and commitment to the sport.
"I went into it with a mission to show the teams a little bit more of my person- ality, how passionate I am about football and the type of person that I am," O'Connor said in a recent interview with the Orléans Star. "I think I really did that, teams got to know me better on a more personal level."
O'Connor has spent the last four years at the University of British Columbia where he led the UBC Thunderbirds to the 2015 Vanier Cup as a freshman.
In the three years since reaching the pinnacle of Canadian college football, O'Connor and his Thunderbird teammates lost to the University of Calgary Dinos in twice the Western Conference champ-ionship in 2016 and 2017 by less than four points, and this past season they lost their opening playoff game in overtime.
The defeats not only made O'Connor appreciate the Vanier Cup win that much more, they made him appreciate the sport on a much deeper level.
(This story was made possible thanks to the generous support of our local business partners.)