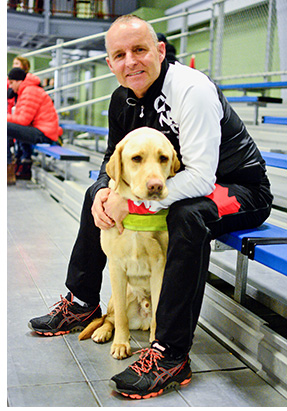 Kevin Frost and with his service dog Lewis. File photo
Kevin Frost is at it again. The multi-sport deaf-blind athlete recently won a gold medal competing against able-bodied athletes at a speed skating event in Lake Placid last month.
The Jack Shea Sprints Championships are held every January on an outdoor oval by the Lake Placid Speed Skating Club. The event is open to both Americans and Canadians who compete at various age groups and abilities.
Frost came first in the 500-metre event in the men's Division III category, beating out fellow competitor Jonathan Furminger. Furminger then turned the tables on Frost in the 1000.
Speed skating is one of the first sports Frost got involved in after he was diagnosed with Usher Syndrome in 2002. The condition leads to partial or total hearing and vision loss that worsens over time. He currently has 15 per cent hearing (90 decibels) and eight per cent tunnel vision.
Frost joined the Gloucester Concordes Speed Skating Club the same year he was diagnosed. The former hockey referee was looking for a sport he could do on ice and he always wanted to try his hand at speed skating. It didn't hurt that the Gloucester Concordes train at the Bob MacQuarrie Complex where Frost refereed many of his games.
After starting out in short track, he soon took up long track as well. Competitive speed skating has taken Frost across Canada and overseas where he's competed in Russia, Germany and Great Britain. He took up rowing for five years and track and field before finally focusing on tandem cycling and golfing. He won a silver medal last year in the tandem road race event at the Canadian championships. His goal this year is to finish on the podium in the Time Trial event with his new pilot, Phil Bergeron, who is also a former speed skater.
(This story was made possible thanks to the generous support of our local business partners.)