It's called "van life" and it's a concept that is sweeping across the globe. From Europe to Australia and to every part of Canada and the United States, young people have been taking a break from the traditional lifestyle their parents may have followed and instead decided to live and travel in vans they've converted into tiny mobile homes.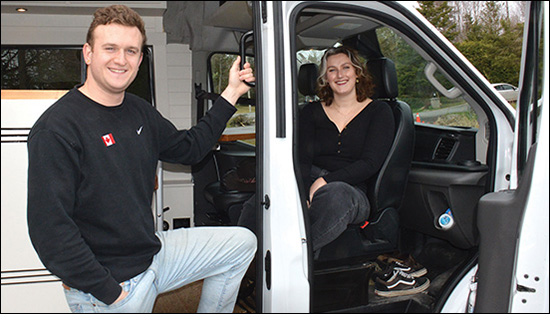 Tori Dark and Kevin Nault plan to travel across North America in the converted Ford cargo van. FRED SHERWIN PHOTO
In Tori Dark and Kevin Nault's case, they have taken a used Ford cargo van and converted it into a four-season mobile home complete with a shower, full kitchen and a queen-sized bed. After ironing out a few kinks, they plan to hit the road sometime
before Mother's Day and either head west or east, or maybe even south.
"We're still not sure what direction we're heading first. Kevin wants to head west, but I want to go down east," says Tori.
Kevin and Tori, who are both 28 years old, have been dreaming about retrofitting their own camper van and setting out across Canada and North America since before the pandemic.
Initially, they were going to hit the road in the summer of 2020, but the pandemic forced them to put their plans on hold.
But on the bright side, it allowed them to do more research and shop around for the right panel van. In the end they settled on a Ford Transit 250 and began converting it last summer.
The pair drew a lot of inspiration for their van conversion from the various "van life" groups on Instagram.
The process – which included installing both an electrical and plumbing system, a heating system which utilizes propane, insulation and adding a shower – has taken nearly nine months with a few hiccups along the way. The latest speed bump was a faulty hot water tank which they've had to replace.
But now, it's all systems go, and the pair can't wait to hit the road.
Aside from stalling their initial plans, the pandemic turned out to be the perfect trial run for their "van life" adventure.
"Being stuck in a tiny studio apartment together 24/7 was the ideal practice," laughs Tori. "At least traveling together in a van, we'll be able to get outside whenever we want."
Tori says she's looking forward to seeing places in Canada that most people fly over on their way from one big city to the next.
"We're not in a hurry. We want to take our time and visit all the small towns along the way and meet different people. I do watercolour illustrations so I'd like to do a series, painting various small town landmarks," says Tori, who will also be writing a regular diary column along the way for the Orléans Star.
The two will also provide regular posts and updates on their Facebook pages and their Instagram page at vanxiety_life.