Orléans is blessed with a large number of women and girls who each and every day strive to make a difference in their community. On March 10, Orléans MP Marie-France Lalonde held a breakfast and award ceremony to honour 49 of those women as part of this year's Leading Women, Leading Girls Awards in recognition of International Women's Day.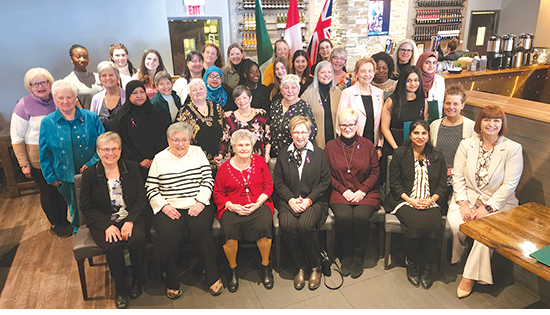 Some of this year's recipients of the Leading Women, Leading Girls awards gather for a group photo with Orléans MP Marie-France Lalonde (far right). FRED SHERWIN PHOTO
Among this year's recipients were Miki Whyte, who owns the DanceR Studio in the Centrum Plaza; Desjardins Insurance agent Lisa Cruickshank, who is the past president of the Arts Ottawa East Arts Council; Rotary Club of Orléans president Julia Ginley; long-time Orléans Legion executive members Jeanine Mader, Marty Keates, Joyce Bisson, and Lucie Godere; Orléans Minor Football Association director of communications Isabelle Bastien; and SFOPHO board members Nicole Martin, Monique Brûlé and Suzanne Cadieux.
Among the leading girls who received an award were Max Turmel, who recently received the Prix Bernard Grandmaître for Young Person of the Year, Evangeline Tabiou, Alexandria Rizzo, Justine Perrault, Estelle Armengau, Lyla Kwan, Victoria Rovertson, Anne-Marie Dugal, Sweny Siaja; Fadila Hijazi; and sisters Valèrie and Sophie LeVasseur who have written several books including a history of the Ottawa Senators and are regular contributers to the L'Orléanais étudiant.
Other recipients include Michele Ruel, Peggy Armstrong, Caroline Viau, Carmen Janega, Anoushka Enders-Zigoumis, Maria Obot, Marilee Murgatroyd, Meghan Fish-Bellefleur, Dr. Divya Kanwar Bhati, Kim Levesque, Georgette Giroux, Joanne Vézina, Pascale Bazinet, Salima Jivraj, Amna and Nadia Hasan, Hélöise Lecompte and Jeanne d'Arc Legault.
Two other women, Eileen MacCaughy and Lise Séguin, received their Queen's Platinum Jubliee Pin.
A number of the recipients are new Canadians who were honoured for their work in supporting their respective cultural communities and for giving back to their adopted country Canada.
Lalonde used the award ceremony to talk about the importance of International Women's Day in recognizing the achieve-ments of women around the world and in our own backyard.
"Today is a day to recognize women's out-standing achievements and contributions, both big and small, that have helped to create a better world for all Canadians," said Lalonde.
"Whether you are a mother, a young entre-preneur, a businesswoman, a caregiver, a health care worker, a teacher and a young women full of dreams and ideas, you have lead your peers and been a role model for all generations. And today we are celebrating each and everyone of you."