Over 2,000 people turned out for local Remembrance Day ceremonies on Friday to honour the men and women who have served their country in the military and to remember those who made the ultimate sacrifice.
By far the largest crowd came out for the Remembrance Day ceremoney at the Orléans Legion, where more than 1,500 people gathered around the Cenotaph parade ground including Orleans MP Marie-France Lalonde, MPP Stephen Blais and city councillors Tim Tierney and Matt Luloff, who himself is a veteran of the Afghan War.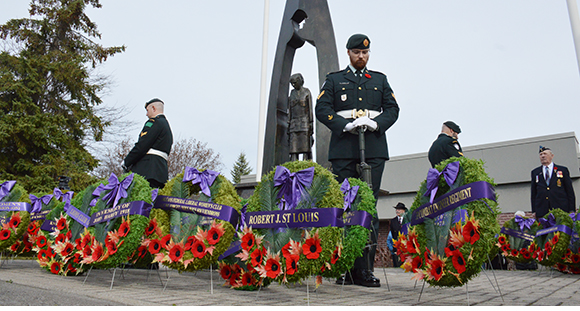 The ceremony was held under a brilliant blue sky and the temperature was a balmy 17 degrees. Making it the second warmest Remembrance Day on record. In 2020, the temperature managed to get up to 19 degress.
The ceremony started with the singing of O' Canada by the Cumberland Community Singers. After a short prayer and a moment if silence, the buglar played The Last Post followed by the playing of the The Lament - Flowers of the Forest by a lone piper. Reveillé then followed, precipitating the layng of the wreaths which was accompanied by a recital of "In Flanders Fields".
Once the formal ceremony had concluded, members of the public filed past the Cenotaph and laid their poppys on the base which is a Remembrance Day tradition.
Similar cermonies were held in Navan and Cumberland Village where the cenotaphs bare the names of men who went off to war and never came back. It is they who we honour every November 11 and shall never forget.