It's been three years since participants in the annual Terry Fox Run have been able to take part in the annual event together.
Shutdowns and social distancing necessitated by the COVID-19 pandemic, meant that the event had to take place remotely, with participants each having to do their own run closer to home with their family.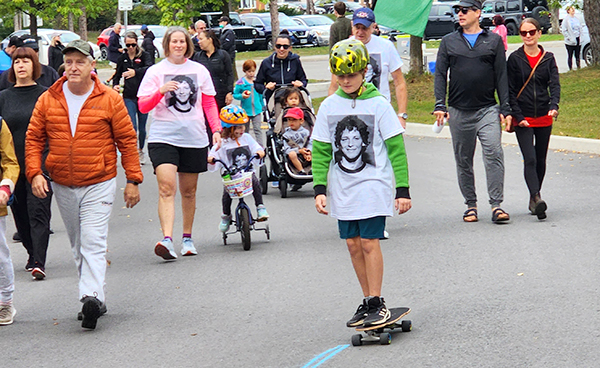 Despite the obvious drawback of having to do what is essentially a communal gathering remotely, they organizers still managed to raise thousands of dollars, including right here in Orléans where nearly $750,000 has been raised over the years so far.
On Sunday, they added to that total as more than 600 people returned to the traditional start/finish line at Sir Wilfrid Laurier Secondary School to take part in the 42nd edition of the Terry Fox Run along with tens of thousands of people acriss Canada.
Among this year's participants were first-timers Kristin Waddell and her five-year-old Camden who were taking part in memory of her grandmother and an aunt who both died of cancer and her uncle, who is currently battling the disease.
"My son Camden came home from school a couple of years ago very excited about Terry Fox, so I really wanted to bring him here and take part in the run together and we've lost a few family members to cancer so we're here to represent them and my uncle who is still fighting," Waddell.
The Moore family came out to keep Terry's dream alive Lauren and Rob Moore brought out their four-year-old daughter Emma and their nine year old son Fin, who completed the five-kilometre course on his skateboard.
Like many other participants, they were taking part in the run for friends and family who have eitther died from cancer, or who fighting their battles with the disease.
This is the second year the Moore family has taken part. They came out for the last run before the pandemic hit when Emma was still in a stroller.
By comparison, this is the 42nd time that Terry Fox veteran Nelson Waddell has taken part in the event. All told he has raised more than $120,000 including another $2,000 this year. Even he finds it hard to believe that he was only 38 years old when he took part in the very first Terry Fox Run in 1980.
"That was a long time ago. I've run a few miles since then," joked Waddell before setting off on this year's run.
Jahn Fawcett has been organizing the local Run since 2015 when he inherited the event from Chris Goneau, who was battling cancer at the time and ultimately succumbed to the disease in November, 2021.
As people started arriving for Sunday's Run, Fawcett was confident the event would rebound in a bog way following the pandemic. He was especially proud with the fact that the people who volunteered in 2019, all came back to help out again this year.
"It just feels good to have everyone back," said Fawcett. "The community did really well over the last two years donating online and running their own routes virtually, but just coming back and seeing other people makes all the difference in the world. It's important to feel that you're part of a bigger community."
Among those who showed up for the Run on Sunday were Orléans MP Marie-France Lalonde and Orléans West-Innes city councillor Laura Dudas.