For the past three weeks, Innes Ward city councillor Laura Dudas has been handing out awards to some of the best businesses and organizations in the area as voted on by their fellow residents.
This is the second round of the Gems of Innes Awards which Dudas launched last year to recognize some of the ward's most cherished assets.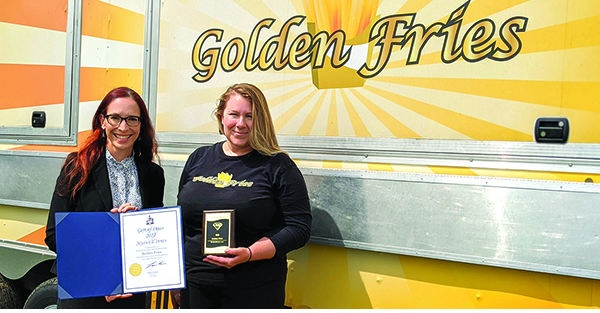 Golden Fries food truck owner Jade Racicot receives her Gem of Innes Award for Best Retail Business – Food, from local city councillor Laura Dudas. PHOTOS SUPPLIED
"The Gems Awards are an opportunity to recognize and show our appreciation for the outstanding businesses and community organizations that are unique to Ottawa's east end, and make our community a more vibrant place to live, work and play," Dudas writes on her website.
"The (awards) help celebrate and highlight the businesses and community organizations that serve Innes Ward and the east end and truly make our community sparkle!"
This year's recipients include Gabriel Pizza; the Blackburn Pharmacy; Golden Fries; the Ottawa School of Theatre; Just Food; Jamaican Homestyle Cuisine; the Art of Bean; the Rising Stars Basketball Academy; Red Dragon Cards, Comics and Games, Echo Audiology and Sherwin Publishing which publishes The Orléans Star and the L'Orléanais.
All of the business and organizations had to first be nominated by an individual outside the organization. Each submission was then vetted and the winners chosen.
Gabriel Pizza, which received the award for Best Restaurant, is one of the oldest businesses in Orléans. Launched 45 years ago by Hanna family patriarch Mike Hanna, Gabriel's has become an institution not only in Orléans, but the entire region with locations in both Ottawa and Gatineau.
Although they haven't been around nearly as long, the Golden Fries food truck, located in Convent Glen, is well on its way to becoming another local institution after being named Ottawa's Favourite Food Truck three years in a row.
The Blackburn Pharmacy, which received the award for Best Professional Service Business, has been serving residents in Blackburn Hamlet for more than 25 years. Their friendly and knowledgeable staff are what keeps their clients coming back year after year. To find out more about this year's Gems of Innes recipients go to www.lauradudas.ca/gems2002..