It's a long way from Odesa, Ukraine, to Orléans, Ontario, and even longer if you've made the journey as refugees from the ongoing war in that Eastern European country.
Boris and Inna Khodorkovsky left Odesa with their 13-year-old daughter Maria as soon as they heard the first bombs falling their city on Feb. 24. Boris, who worked as a guide/translator/fixer for various journalists covering the tension between Russia and Ukraine, had been anticipating the Russian invasion for months.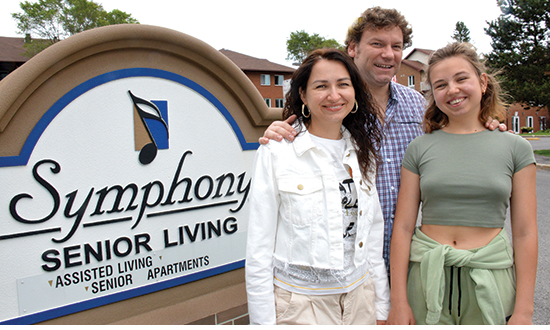 Boris and Inna Khodorkovsky stand with their daughter Maria outside the Symphony Senior Living community in Orléans where they have been living since immigrating to Canada last month. FRED SHERWIN PHOTO
In fact, Boris, who is a naturalized Canadian citizen, applied for permanent residency status for Inna and Maria as far back as last November.
When the bombs began falling, the trio piled into the family car and headed to the Ukraine-Moldova border.
"I went to bed at 5 a.m. on the 24th and a few minutes later I heard the first explosion and then several more explosions which woke up my wife and my step-daughter and we decided to leave right away," says Boris.
It took nearly 18 hours to cross the border. After spending a week with a friend in Moldova, they heard from another friend who invited them to help run a refugee facility in Sofia, Bulgaria.
When they arrived in Bulgaria, they applied to come to Canada under the Canada-Ukraine Authorization for Emergency Travel program which provides Ukrainians and their immediate family members the opportunity to stay in Canada as temporary residents for up to three years.
Within 48 hours of applying for the CUAET program, Boris and Inna heard back from the Canadian consulate in Sofia informing them that their application for permanent residency status, which they had filed back in November, had been approved.
Whether it was coincidental or not, didn't matter to the couple. They just wanted to come to Canada to start their new life. But first they needed a place to stay, that's when Symphony Senior Living stepped in.
Inna was researching various accommo-dation options in Ottawa, most of which required a credit and employment history, which they did not have. Then Inna hap-pened upon a post by Symphony Senior Living owner Lisa Brush who was offering an apartment in their independent living facility in Orléans. Boris and Inna applied and within two days they were accepted.
"Lisa Brush sent us a very big and warm e-mail and I was in tears. It was really amazing," says Inna.
They arrived in Ottawa on May 19 and were immediately welcomed with open arms by the staff and residents at Symphony Senior Living Orléans.
"Everyone who lives here has brought us things like chairs and utensils, even their families brought us things," says Boris.
The couple chose to come to Ottawa because of its size and character.
"Ottawa is a calm, friendly city with lots of green space and I thought it would the perfect place for my wife and daughter," says Boris, who is eager to find work. The couple also wants to get their own place and put down roots in Orléans where Maria can attend school in September.
Symphony originally committed to pro-vide accommodation to the family for three months. The retirement community has since extended the invitation to six months. In the meantime, Boris and Inna are trying to stay in touch with relatives and loved ones who either decided to stay in Ukraine or have fled to other countries.
Inna's mother and grandmother were all able to escape Mariupol and flee to Poland.
"The scary thing for me was that for three weeks I didn't hear anything from my parents because Mariupol was completely cut off. I didn't know if they were alive or dead. I didn't know anything," says Inna. "After three weeks, I got a text message from my mother saying that she had left Mariupol with my grandmother and some of her friends. She wrote 'Alive. Alive. Alive.' "
Inna's mother and grandmother are hoping to return to Ukraine, where they can stay in the couple's apartment in Odesa, but only when it will be safe to do so.
Maria has been keeping in touch with her friends, most of whom are scattered across Europe, through social media.
"At first, in our minds, we didn't think about it much because it was an unfinished thing, we were still in the middle of it. It wasn't until I came here that I realized that it is important that we have to stay in touch with each other," says Maria.
Boris has been spending his time educating Canadians and others about the situation in Ukraine through an English-language video-journal on TikTok. You can find it at https://www.tiktok.com/@ua2ca/.
He also created a channel on Twitter called Ottawa News Pulse, which can be found at twitter.com/OttawaNewsPulse.
During their interview with the Orléans Star on June 29, the family expressed a keen interest in celebrating their very first Canada Day in their new country..