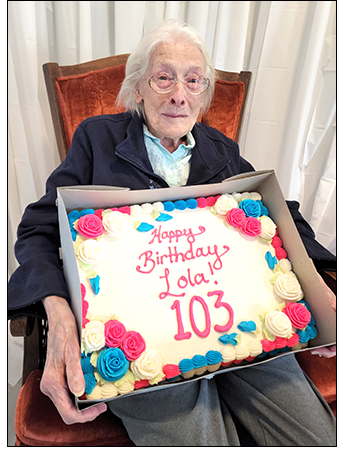 Lola Larmour
When Lola Larmour was born, Europe was still gripped in the throes of WWI, a brand new Ford Model T cost $500 off the production line and the first commercial radio broadcast was still eight years away.
On Thursday, March 31, Lola celebrated her 103rd birthday surrounded by family and friends at the Hervé Joly seniors home in Sarsfield.
It was the first time Lola was able to celebrate her birthday in the company of others since the COVID pandemic began two weeks prior to her 101st birthday in 2020.
The celebration was actual a surprise party. When Lola entered the room, everyone broke out in a rousing rendition of Happy Birthday to You which brought tears of joy to her eyes.
"It's absolutely wonderful. What a nice surprise," Lola said after taking a moment to compose herself.
Born in 1918 in two storey home in Cheney, Lola, whose maiden name is Stephens, has spent her entire life in the Ottawa area. She first married in 1940 to Lytle Monahan. The couple had four children – Betty, Gordon, Judy and Ruth, all of whom were home births.
After Lytle passed away in 1947, Lola met and married her second husband, Howard Larmour, in 1950 with whom she had a fifth child, Jane. The couple moved into a log home on Larmour Lane near Sarsfield where Lola continued to live until she moved into the Hervé Joly residence in 1989, five years after her second husband passed away.
During most of her adult life Lola was an avid sewer and quilter, winning multiple red ribbons for her handiwork.
While Lola is no longer able to use the stairs to get to and from her second floor room, something she was still doing well after her 100th birthday, she is still able to get around with the assistance of a walker and except for her restricted mobility is in general good health.
The last two years have been especially difficult on seniors living in retirement homes and Lola has been no exception. She admits to going though periods of extreme loneliness and depression during the pandemic and in the past year she lost her only son, Gordon, and two of her son-in-laws.
Asked what the secret has been to her own longevity, Lola answered with just one word, "God".
"As long as God gives me the strength, I'm going to keep going," she said when asked how many more birthdays she still has in her.
As for any advice she might have for anyone else hoping to achieve her own milestones, Lola says that you need to keep busy no matter what age you are. "You have to be willing to keep trying different things and do stuff. You just can't sit around your room and watch TV all day."
That sounds like sage advice from someone who obviously knows what she is talking about.