Looking for a unique item for that special person on your Christmas list? Well, there is a store just 10 minutes from Orléans that offers one-of-a-kind gift items made by local artists and artisans in nearly every price range.
What is the name of this magical place you ask? It is the Da Artisti Studio and Gallery located just east of Orléans in Cumberland Village.
The studio specializes in fused glasswork made by owner Wendy Canci along with unique jewelry, printed scarves, framed paintings and sculptures, and natural un-scented soaps and lotions by Simply Soaps of Cumberland.
Among the local artists featured at Da Artisti is Deborah Lyall, who specializes in fibre and textile art.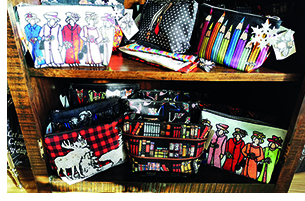 Graphic design handbags by Deborah Lyall
Deborah will be at the studio this weekend from Nov. 26-28, where she will have a number of her creations for sale from handbags, scarves and leggings to small original framed art pieces and many new "gallery bees". Each piece makes its own statement through the use of unique and colourful graphics. Lyall will be joined at the studio by All On A Dare wood creations which makes seasonal porch signs.
Elsewhere in the store you will find fine woodwork creations by former Cumberland mayor and MPP Brian Coburn as well as pieces made by fellow woodworkers Serge and Sheila Parisien, Stan Morrow, Lionel Bédard and Ron Lacroix whose wife and partner Joanne Lacroix specializes in wood-burning art that is truly unique.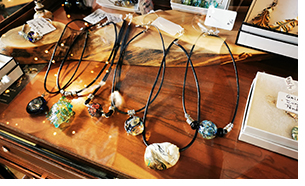 Handmade Jewelry
The gallery also carries one-of-kind handmade jewellery by Barbara Ham, Nathalie Brunelle and Janet Evans that is very affordable.
But what Da Artisti Studio and Gallery is most well-known for is the fused glasswork created by owner Wendy Canci and fellow fused glass artist Martine Marceau. From gorgeous wall hangings and decorative bowls to fused glass night lights and key chains, no two pieces are alike. The multi-coloured pieces come to life as the light is reflected off each glass element.
You won't find anything like it in Orléans. The same can be said for the stained glass creations made by Diana Atkinson as well as paintings by local artists Danielle Beaulieu, Hélene Charbonneu and mixed media art created by Pamela Stewart.
Fuzed glass creations
Last but by no means least, the studio also carries metal sculptures by Ron Matton and ceramics by Colette Beardall.
The biggest challenge that Wendy has is in convincing residents living in Orléans that the studio is not as far away as they may think. "People talk all the time about going to studios in Merrickville, but we are a lot closer and we carry a wide variety of art pieces created by some very talented local artists," says Canci.
The quality of the artwork cannot be overstated. You would have to travel to the Byward Market or further afield to get the same type of craftmanship you will find at the Da Artisti Studio and Gallery.
In fact, almost everything at Da Artisti can fit into any Christmas shopping budget, or you can simply purchase a Da Artisti gift certificate which can be redeemed for merchandise or classes at a later date.
Da Artisti is open Wednesday to Friday from 11 a.m. to 7 p.m. and Saturdays and Sundays from 9 a.m. to 4 p.m. They are closed on Mondays and Tuesdays. You can visit their website at daartisti.ca or their Facebook page at facebook.com/DaArtisti.