To be a great community, you need to have great residents, great organizations and great local businesses. For the past two weeks, Innes Ward councillor Laura Dudas has been criss-crossing the ward, handing out Gems of Innes Awards to 11 of those organizations and local businesses.

Innes Ward Coun. Laura Dudas presents a Gems of Innes Award to Dr. Annie Séguin from the Hamlet Veterinary Hospital. FRED SHERWIN PHOTO
One of the first places she visited was the Hamlet Veterinary Hospital on Innes Road where she presented Dr. Annie Séguin with the Favourite Frontline Worker Award.
The soft-spoken vet accepted the award with humility while heaping praise on her husband and business partner Dr. Bernard Vincelette and the entire staff for making the award possible.
The Hamlet Veterinary Hospital is a godsend for pet owners in Blackburn Hamlet and the surrounding community.
The staff at the hospital go above and beyond merely treating their furry patients. They are dedicated to educating owners about the care of their pets and how they treat various illnesses. They pride themselves on providing compassionate care, especially for aging cats and dogs.
Desjardins Insurance agent Lisa Cruickshank picked up a Gems award in the category of Best Professional Service Business. Working with her head office, Lisa nominated many Orléans businesses for grant money to be awarded by Desjardins Insurance. She worked tirelessly to put together rock-solid submissions that resulted in $80,000 in grants being awarded to eight Orléans businesses. These funds have helped businesses stay afloat during the pandemic, serve their clients and contribute to the local community.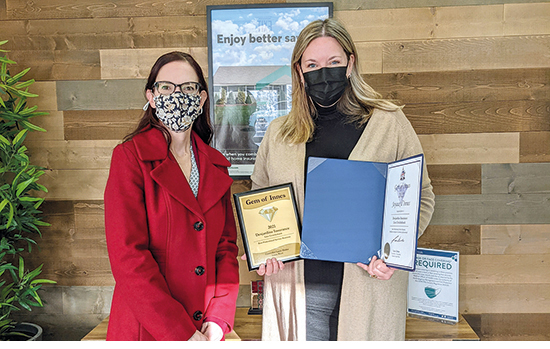 Innes Ward Coun. Laura Dudas presents a Gems of Innes Award to Desjardins Insurance agent Lisa Cruickshank . FRED SHERWIN PHOTO
The Garlic King received a Gems Award for Favourite Frontline Business. The restaurant gave away 100 family meal certificates to the local food bank to help families in need and provided countless meals to first responders over several months during the pandemic.
Other award recipients include Pho Truc Lien for Best Restaur-ant/Café; Delice Royal for Best Restaurant – Food; the Cumbrae School of Dance for Best Personal Service Business; MIFO for Best Community Support Organization; Lokma for Best New Business; Critter Jungle for Best Retail Business – Merchandise; and Cathy Priestman from CP Business Solutions for COVID- 19 Community HERO!