Thousands of people took advantage of near perfect weather on Monday to take part in local Canada Day celebrations from Beacon Hill to Vars and a few communities in between.
Orléans MPP Marie France Lalonde and MP Andrew Leslie serve up some birthday cake to patrons at the Petrie Island Candada Day celebration on Monday
The largest event was the annual Canada Day celebration on Petrie Island hosted by the Kiwanis Club of Orléans. After being hit by torrential rain in 2017 and a sweltering heat wave last year that kept many people indoors, this year`s Canada Day celebration was picture perfect.
The event kicked off at 11 a.m. with inflatable rides for the kids, facepainting and games like mini-putt, a fish tank and a beanbag toss for the little ones. Circus Delights also entertained the kids with a special magic show.
The official opening took place at 1 p.m. with speeches from the various local politicians, including Ottawa Mayor Jim Watson, followed by the cutting of the Canada Day birthday cake which was quickly devoured by nearly 100 hungry revellers.
One of the early hightlights was a performance by Orléans Ward councillor and lead guitarist extraordinaire Matt Luloff who was reunited with his band Hearts&Mines for a short set.
The event was brought to a close by a 15 minute fireworks display that sent everyone home with memories of yet another Canada Day in Orléans.
After the event ead organizer Zybina Richards was both thrilled and relieved that the day had been such a terrific success.
"It`s been absolutely marvelous. Honestly," said Richards. "After two years in a row when Mother Nature has not been at her best. I feel tryly blessed that we were able to have such an amazing day. Everyone is happy. They all have a bug smile on their face and they are really enjoying themselves, especially the young families who don't want to go downtown and get caught up in the huge crowd."
Sheryne Morcos is one of those people. She and her husband David brought their four kids to Petrie Island, including their two-year-old son. Having a family-friendly algternative to the chaos downtown is godsend to families like theirs.
"It's great. There's a lot of thnings to do for the kids and you can't find a better setting," said Morcos. "There was no way we were going to take the kids downtown it's a mad house."
Other Canada Day celebrations were held in Beacon Hill where hundreds of people enjoyed barbequed hamburgers and hotdogs took part in kids activities and watched a colorful fireworks display hosted by the Beacon Hill Community Association in Beacon Hill Park.
The Canada Day celebration in Blackburn Hamlet was also well-attended as were the festivities in Vars. The Blackburn Hamlet event was hosted by the Blackburn Community Association which booked several local performers who kept the crowd entertained right up until the fireworks at 10 p.m.
OCCO Kitchen owner and executive chef Mark Steele even got in on the action, hosting his own Canada Day celebration for his neighbours on Comfrey Crescent in Notting Hill complete with a bouncy castle, BBQ and fireworks.
Speaking on behalf of our readers and all those who attended the many Canada Day events in the east end, the Orléans Star and orleansonline.ca would like to thank all the organizers, the hundreds of volunteers and all the donors and sponsors who make it all possible.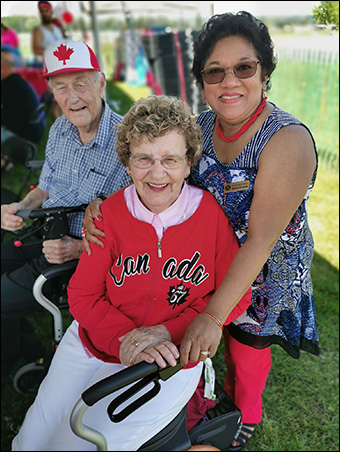 Petrie Island Candada Day celebration organizer Zybina Richards meets up with former Cumberland councillor Fern Casey who organized the very first Fallingbrook Canada Day celebration in the Apollo Crater in 1988.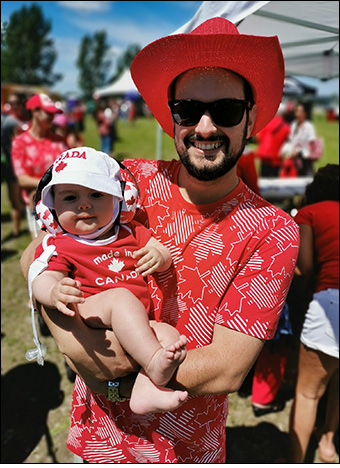 Adam Polka brought his newborn son Eli to Petrie Island to celebrate his very first Canada Day. Fred SherwinéPhoto.
(This story was made possible thanks to the generous support of our local business partners.)