Local South Asian community in mourning after prominent member's sudden passing
By Fred Sherwin
June 8, 2019
Ottawa's South Asian community is in shock today following the news that one of its most prominent passed aways suddenly yesterday at the age of 43.
Hunsdeep Rangar was the lead organizer of SouthAsianFest, which is held during the second week in August on the grounds of Ottawa City Hall. He was also the host of Mirch Masala Mix and Bhangra Nation on CHIN 97.1 FM.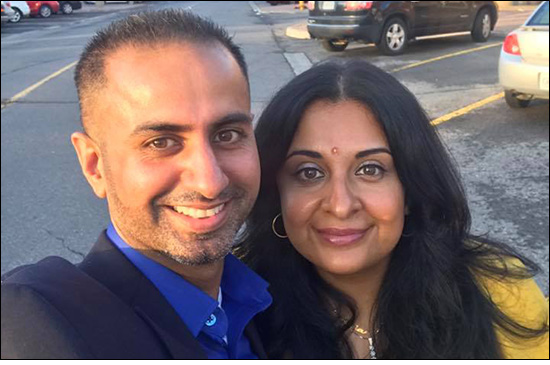 Hunsdeep Rangar is survived by his wife Oshimi and their daughter Neela. FACEBOOK PHOTO
More importantly he was a devoted husband to his wife Oshima and the proud father of their young daughter Neela.
Rangar recently hosted the SouthAsianFest launch party just 10 days ago. He will be remembered by those who have met him for his infectious smile, his enthusiasm for the Nation'a Capital and its South Asian community and for his ability to instantly connect with people, both young and old, from every walk of life.
The cause of Ranger's death is unknown at this time. Members of his family were making funeral arrangements on Saturday. The 43-year-old Avalon resident was being eulogized by friends and colleagues on various social media platforms within minutes of his passing.
He is being remembered by many as a proud family man and a champion of the South Asian community and its relevance, influence and importance in the community at large.
"Hunsdeep was our main pillar in our South Asian community in Ottawa," friend Ajitpal Dhaliwal told CBC Ottawa. "He was always representing the 613 and always wanted to put Ottawa on the map.".
"He united so many different groups of people. It's a major loss," another friend, ANuj Joshi, added.
Many local politicians and community leaders also posted their condolences online including Ottawa Mayor Jim Watson who wrote, "This is very sad news. Hunsdeep was such a great contributor to the community. My sympathies to his family and many friends."
Hunsdeep is survived by his wife Oshima, their daughter Neela, his brother Bundeep and his mother Vinnie. His father Gurbir Singh Rangar passed away last February.
(This story was made possible thanks to the generous support of our local business partners.)