Marie-France Lalonde 'strongly' considering run for federal Liberal nomination
By Fred Sherwin
May 7, 2019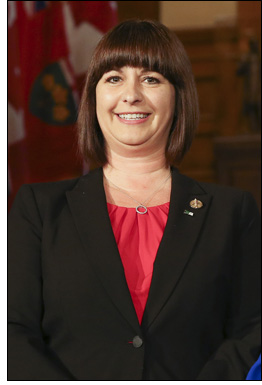 Orléans MPP Marie-France Lalonde is considering whether or not to take a run at the federal Liberal nomination in the local riding. FILE PHOTO
Orléans MPP Marie-France Lalonde is "strongly" considering a career change according to several local media outlets.
The French language radio station Unique FM was the first to report the news that Lalonde plans to seek the federal Liberal nomination to replace current Orléans MP Andrew Leslie in the federal election this fall.
Leslie announced last week that he would not be seeking re-election in order to pursue a "new path". It come to light several days later that he will be testifying for the defence in the upcoming trial of suspended Vice-Admiral Mark Norman.
Leslie's surprise announcement left a sudden void that was immediately filled with rumours of potential successors, but Lalonde's name was not among them.
It had long been rumoured that the former Liberal Cabinet minister was seriously considering taking a run at the provincial leadership, but that brass ring seems to have been replaced by the chance to sit in the House of Commons.
Lalonde's spokespeople say she plans to make an announcement next Monday.
In an interview with ONFR+, Lalonde admitted that she is `strongly` considering a run for the federal nomination.
"I have been approached by people from the riding and from friends in the federal government who strongly believe that I can help keep the riding red," Lalonde told ONFR+ reporter Étienne Fortin-Gauthier.
The 47-year-old former social worker and health care professional was first elected to the provincial legislature in 2014, replacing outgoing Liberal incumbent Phil McNeely in the process.
After serving as the parliamentary assistant to the Minister of Economic Development, Employment and Infrastructure for two years she was appointed to Cabinet in June 2015 as the Minister of Government and Community Services and the minister responsible for francophone affairs.
In January 2017, she was moved to Community Safety and Correctional Services while still retaining her duties as Minister of Francophone Affairs. In last year's provincial election she was one of only six Liberals to get re-elected out of the former Kathleen Wynne government.
Lalonde is married to her husband Alvaro and they have a grown daughter.
(This story was made possible thanks to the generous support of our local business partners.)