Volunteers use a floating docks to form a bridge used to transport sandbags from dry land to homes on Leo Lane under threat of flooding by the rising Ottawa River. Fred SherwinéPhoto
Residents living on Leo Lane near Cumberland Village are embroiled in an ongoing battle against the rising waters of the Ottawa River and for now they appear to be holding their own although the worst is still to come.
Experts are predicting the river could rise at least another foot over the next few days despite the fact that it is already four feet above normal.
For at least three houses on Leo Lane, a coffer dam purchased after the 2017 flood seems to be doing the trick in holding the water back along with hundreds of sandbags filled and put in place by a small army of dedicated volunteers.
Three other homes left unprotected haven't fared so well and are now flooded by the murky water along with several homes on nearby Morin Road, leaving the city facing the difficult decision of shutting off power to the area.
The power had to be shut off and the residents evacuated during the 2017 flood. Many couldn`t return home for weeks afterwards.
Several of the residents who left their homes in 2017 are vowing to stay this time around and they've purchased generators to keep the lights on and their appliances running. One fo those residents is Mike Potvin who spent over $300,000 on renovations after the 2017 flood destroyed his cinder block foundation. He has since raised the gound floor of his house nearly eight feet. It is now an island.
"We're not going anywhere. We have a generator plenty of fuel and enough food to last us a week," says Potvin.
That same sentiment is echoed by several of his neighbours.
Up river where the flooding is much worse in Fitzroy Harbour and Constance Bay, abiut 400 soldiers from CFB Petawawa have been called in to assist with the sandbagging operations after the city declared a stated of ermergency on Thrusday. They may end up assisting with the voluntary evacuations after experts warn that the swollen Ottawa River could surpass the 2017 flood level by 10-20 centimetres.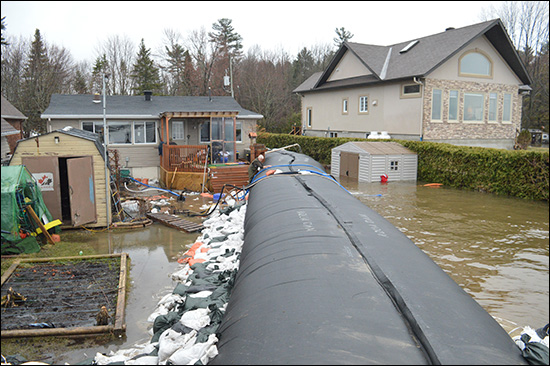 (This story was made possible thanks to the generous support of our local business partners.)