Maple Fest celebrates 50 years serving up flap jacks and sausages for charity
By Fred Sherwin
April 7, 2019
"It was a little cheaper and the pancakes were better," says Fred Jones recalling the very first Cumberland Lions Maple Fest pancake breakfast in 1969. "Other than that it's pretty well stayed the same just different faces."
As a charter member of the Cumberland Lions Club, Jones has been to all 50 pancake breakfasts. He can still recall when a local television station came to cover the breakfast in the early 70s.
"One of the guys who was stirring the pancake batter was smoking a cigarette while he was doing it and there was about an inch of ash on the end just hanging there. It was a different time back then."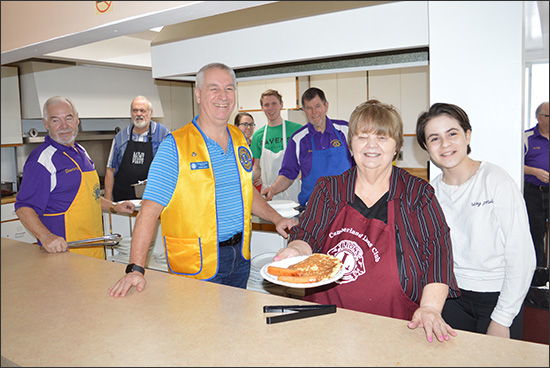 Cumberland Lions Club president Betty Shields holds a plate of pancakes as her fello Lions Club members look on in the kitchen at the Lions Maple Hall in Cumberland Village, home of the annual Lions Maple Fest. Fred Sherwin/Photo
Fran Stronach has been coming to the breakfast for 41 years. The former Cumberland municipal councillor was a Girl Guide leader the first time she came to the Maple Fest and her Girl Guides were responsible for cleaning the tables. She's kept coming back all these years to show her support for the local Lions Club.
"The Lions do so much for the community, it's important to support them so they can keep doing what they," said Stronach.
The event raised just over $6,000 last year which was use to help fund a variety of Lions charities.
"We usually serve about 1500 people and at least 50 per cent comes back for seconds, or thirds, or fourths, so that's a lot of pancakes and sausages," said Cumberland Lions Club president Betty Shields during a break in the action.
The event attracts people from across Cumberland and further afield. Many former residents make it a point to come back year after year to take part in what has become an annual tradition.
The pancake breakfast is always held on the first weekend in April, so mark in on your calendar for next year and be sure to drop on by to support a time honoured community initiative.
(This story was made possible thanks to the generous support of our local business partners.)