GoFundMe campaign raises $32,000 and counting for family of Orléans fire victim
By Fred Sherwin
April 6, 2019
A GoFundMe campaign has been established for the family of a 20-year-old non-verbal autistic man who died in a house fire on Boake Street in South Fallingbrook early Wednesday morning.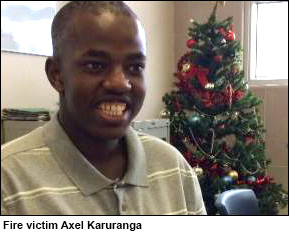 Axel Karuranga was sleeping in his third floor bedroom when a fire broke out in his family's townhome shortly after 6:45 a.m.
Axel's mother Jasqueline, his sister Pamela, 27, and his brother Michael, 24, all managed to escape the house safely, but he did not. The eldest of the four siblings, Gael, was not home at the time. Michael tried to get to Axel's room to save him but was turned away due to the thuck black smoke that had filled the top two floors.
When fire fighters arrived on the scene they managed to knock down the fire within 20 minutes and extricate Axel from the house. Unfortunately, efforts to resuscitate the young man were unsuccessful and he was pronounced dead at the scene. The cause of the fire was not immediately known and is still under investigation.
Axel, who is the youngest of the four siblings, was co-raised by his mother, sister and brothers. The Karuranga family immigrated to Canada 20 years ago after fleeing genocide in their native Rwanda.
A family friend established a GoFundMe account to help raise money to pay for the young man's funeral and help replace some of the clothes and household items destroyed in the fire.
"Losing a house and starting from scratch is horrible, doing so without your son or brother is unbearable," Sabrina April wrote in her online appeal. "Together we can make a real difference and take some stress away from the Karuranga family."
By noon on Saturday, the campaign had raised over $32,000. Donations can be made by visiting https://ca.gofundme.com/tragic-fire-and-life-lost-karuranga-family.
In an interview with CBC Ottawa, Pamela Karuranga said the reality of losing her baby brother has yet to fully set in.
"I don't know what to do and I don't know the best way to mourn my brother and what he would appreciate, because it still feels like a bad dream," said Pamela.
The family has been relocated to a hotel while the damage to their home is being assessed and the necessart repairs are made to make it liveable again.
The siblings remember their brother as happy, energetic and generous, eagerly greeting them when they got home from work. Relatives have been arriving in Ottawa to lend the grieving family their support over the past couple of days and help plan Axel's funeral.
(This story was made possible thanks to the generous support of our local business partners.)